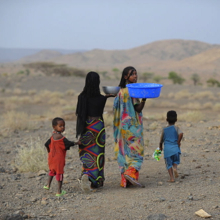 Two Melbourne-based DLA Piper lawyers have worked pro bono to help deliver basic services to poor and marginalised people in Africa.
Partner Richard Moshinsky and senior associate Andrew Crean have worked to strengthen maternal and child health programs in Africa through their pro bono assistance to Anglicord and their international project, A Road Less Travelled, a project of the Australia Africa Community Engagement Scheme (AACES), an AusAID initiative. 

DLA Piper's involvement comes after the firm's lawyers last year undertook more than 190,000 hours of pro bono legal work globally. By hours worked, this makes the firm one of the world's largest providers of pro bono legal services.

The most recent scheme is a five year program funded by AusAID, which began last year.

Ten Australian NGO's and their Africa based partners received funding to improve basic service delivery to poor and marginalised people in 11 African countries, contribute to policy engagement on African development issues and provide opportunities to profile Australia's practical assistance in the region, DLA Piper said. Three focus areas have been identified for attention under the AACES program - food security; maternal and child heath; water supply, hygiene and sanitation.

DLA Piper Australia assisted Anglicord with the drafting of individual service agreements and its consortium arrangements.  With Nossal Institute and Australian Volunteers International, Anglicord was lead proponent for the consortium, with responsibility to AusAID under a funding agreement with the Commonwealth of Australia.

The firm also advised on the agreements between Anglicord and its in-country partners (the Afar Pastoral Development Association in Ethiopia, and the Mother's Union of the Anglican Church in Kenya), and the broader partnership agreement between the AACES Partners.

"This has been a fantastic project to be involved in and is a good example of the firm's strong commitment to pro-bono work. It has been incredibly rewarding to be able to provide pro bono advice and support to an organisation doing such important overseas development work as Anglicord," Crean, the senior associate on the project, said.

Within the broader AACES project, the focus of the project, A Road Less Travelled, is to improve maternal and child health by targeting key health determinants impacting on the lives of nomadic and marginalised women from communities in Ethiopia and Kenya. 

The firm said focus areas include increasing access to health services including supported birthing, improving conditions of daily living and supporting policy dialog between stakeholders to ensure positive outcomes are sustainable.

The Australian NGO's participating in AACES are World Vision, CARE, ActionAID, Marie Stopes, Caritas, Oxfam, Water Aid, Anglicord (in consortium with Nossal Institute and Australian Volunteers International delivering the project, A Road Less Travelled), Plan and AFAP - the Australian Foundation for the Peoples of Asia and the Pacific (collectively, the AACES Partners).