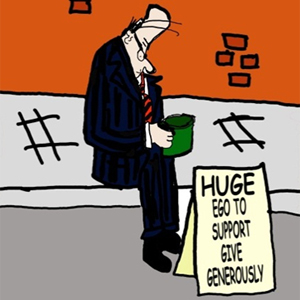 Why do lawyers enjoy making fun of lawyers?
It's a compulsion for Paul Brennan, a Sunshine Coast based lawyer, cartoonist and author of the new book 101 Reasons To Kill All The Lawyers.
"I can't help it," he told Lawyers Weekly. "People who laugh most at lawyers are lawyers."
His new book, due to be released in June, centres on the character John Fytit, a balding lawyer who Brennan fears he is beginning to resemble.
Brennan said his book won't offend even the most conservative of lawyers. "It's ribbing in a friendly way," he said. Even so, he admitted there were many more reasons to kill lawyers that he didn't include in his book.
"I didn't want to depress the profession by making it 1001 reasons," he laughed.
The book is titled after Brennan's blog, which includes some of his cartoons and is the forum for an annual caption competition, which was launched in 2008. This year's winner was comedian Rodney Marks who chose The Be Brief Property Lawyer Thong as his prize, one of a range of products featuring John Fytit that is sold through the website.
Marks said he looks forward to receiving his prize from Brennan in a public place in full view of passersby.
Brennan revealed that a previous competition he ran on his blog was not nearly as successful. Readers were invited to nominate lawyers in their firm or organisation for the John Fytit lookalike contest. He received a number of entries, mostly from staff nominating senior lawyers, but the winners were never identified or in most cases informed.
Folklaw can only conclude that there are some lawyers who don't see the humour in self-deprecation ... or hair loss.
Worst legal mistakes clients make
Paul Brennan lists the following top legal mistakes in his book 101 Reasons To Kill All The Lawyers, but admitted there are many more. If you've experienced or heard of a legal mistake worth sharing, join the discussion on the Lawyers Weekly Facebook page.
1. Fighting with the parent of your offspring. You have so much to lose.
2. Disputes with your neighbour. The only full resolution is to move.
3. Buying a house without selling the one you own. Bank bridging finance is required when you cannot sell quick enough. I know you must have it, but just wait for once in your life.
4. Trying to get blood out of a stone. Ensure your opponent can pay up.
5. Fighting legal cases you cannot win. There may be other ways to beat your opponent and save the cost of legal fees.
6. Using a 'Do it Yourself' will. You can't even find your car keys most of the time. However, if you are broke anyway - no problem.
7. Not calling a lawyer when you're arrested and trying to talk your way out of it instead.