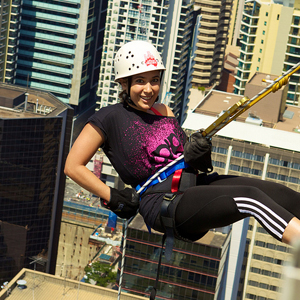 A team of have-a-go heroes from Clayton Utz's Brisbane office will descend the heights of one of Brisbane's tallest buildings next month to raise money for Save the Children Australia.
The socially-climbing team of lawyers will be among 200 participants to take part in 36 Floors: The Ultimate Urban Abseil down Brisbane's Gold Tower on 17 and 18 May.
Clutz lawyer Emma Thompson (pictured) said the firm's team raised almost $18,000 last year and that they are hoping to beat that figure this year.
Fifteen staff members from the firm's Brisbane office, including Thompson, did the abseil last year, and eight hardy souls have so far signed up for this year's challenge, "but we're hoping to increase that number as people become more aware of it within the firm", said Thompson.
The abseil isn't the only charity event the Clutz crew have participated in lately; on 24 March, four members of the tax group from the firm's Melbourne office took part in the annual Melbourne 'Run for the Kids' and raised $810 for children's charity the Lulu Demetriou Fund.
Adrenaline sports fan Thompson said the Clutz team is excitedly planning their fancy dress costumes for the abseil.
"We didn't dress up last year but we're very excited to plan our costumes for this year's abseil ... we've had superheroes [suggested] so far but it varies, so I think we'll have to come to a group consensus nearer to the date," she told Lawyers Weekly.
In total, last year's event raised $198,000 for Save the Children's 13 Queensland programs.
Each entrant is required to raise $1000 to take part, and Thompson said last year the team received a lot of support from within the firm.
"We had the support of a lot of colleagues and even some clients contributed," she said.
For this year's fundraising effort, she added: "We're currently planning a bake sale ... just to raise awareness and get everyone on board."
Abseiling seems to be the in-thing when it comes to lawyers raising money for charity these days, with two Sydney lawyers, Aaron Allegretto from Herbert Smith Freehills and Ciara White from Corrs Chambers Westgarth, taking part in an abseil down the AMP Building in Sydney in aid of the Sir David Martin Foundation last October.
Although it might be expected that the prospect of leaping off a tall building would fill you with dread, thrill-seeking Thompson is devoid of any nerves.
"I'm just so excited ... I can't wait for all our costumes to be finalised and for everyone to get into the spirit of it ... I think it's a very worthy cause and a great day," she said.