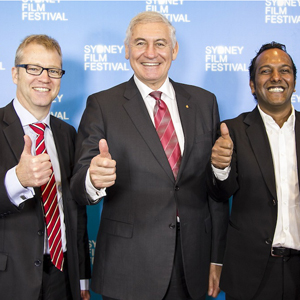 Sipping fancy tea and chatting casually with a multi-million dollar grossing movie star is not how most law firm managing partners spend their Wednesday morning, but that is exactly what Baker & McKenzie's Chris Freeland was up to yesterday (8 May).
It wasn't all fun and games though. Freeland (pictured, on left, with NSW Arts Minister George Souris and Festival Director Nashen Moodley) was attending the 60th Sydney Film Festival (SFF) Program Launch at Customs House in his role of Festival chairman; he even had to give a speech, and we all know how lawyers hate giving speeches!
Famous Aussie actor Hugo Weaving, who attended the launch and was papped chatting casually with Freeland, will be the jury president for the Festival's Official Competition.
Weaving first came to international attention when he starred in Priscilla, Queen of the Desert, before going on to become the king of trilogies by starring in The Matrix, The Lord of the Rings and The Hobbit. He also voiced Rex the sheepdog in one of Folklaw's favourite films, Babe.
Freeland, now in his fourth year as Festival chairman, seemed right at home among the 'arty types' and glitterati in attendance, and he opened proceedings by thanking everyone for coming and emphasising the "significance of the Festival".
He added: "We're firmly looking to the future and how the Sydney Film Festival can continuously re-invent itself."
We guess the SFF isn't so dissimilar to law firms in that way...
Freeland also gave a shout-out to the NSW Government and said the Festival "wouldn't be possible without the support of our NSW Government partners".
The gesture was appreciated by NSW Arts Minister George Souris, who spoke after Freeland to officially launch the Festival Program, and said, in government, being thanked "doesn't always happen".
We hear ya George, Folklaw never gets any thanks for the invaluable service we provide either...
Although we did appreciate getting an invite to the launch; you don't have to ask us twice to anything that involves free muffins and curry-spiced popcorn...
Freeland was getting a bit sentimental towards the end of his speech, saying: "I can think of no better way to while away a Sydney winter than by sharing the visual sensation of great film with family and friends."
Aw. Folklaw agrees, and with 190 titles from 55 countries on over the 12 days of the Festival (which runs from 5-16 June), there is sure to be something for everyone.
We just hope all you overworked lawyers get some time to enjoy it...