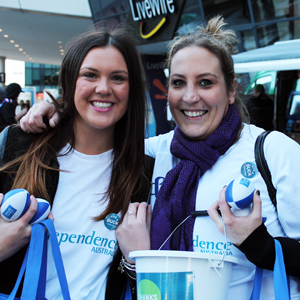 Not since senior partner Peter Gordon's leadership have the offices of Slater & Gordon been so gripped by footy fever.
Slaters embraced its sporting roots on Sunday (16 June) at the 14th annual Robert Rose Cup clash between the Collingwood Magpies and Western Bulldogs, of which Gordon is the president.
The firm partnered with the Pies and the Dogs to be the naming rights sponsor of the AFL match held at Etihad Stadium in Melbourne.
Janine Gregory, general manager – personal injury south (Victoria, South Australia and Tasmania) at Slaters, told Lawyers Weekly that Gordon remains "a great friend of the firm" and helped to orchestrate the deal along with Slaters' current managing director, Andrew Grech.
She added that the firm saw its sponsorship of the Cup, named in honour of footballer Robert Rose who became a quadriplegic at age 22 after a car accident, as a way of promoting the themes of equality and inclusion.
"We are very passionate about advocating for people with a disability [and] sport is all-unifying ... it's one of those places that can bring people together of all abilities," she said.
In addition to sponsoring the event, around 20 of the firm's lawyers and support staff (pictured) netted more than $14,000 for disability support groups from footy fans on the day.
Another gesture aimed at promoting the inclusion of disabled individuals was the handing over of the presidential reigns from Gordon to Doggies supporter and former Slaters client Lynette Rowe.
The 32,000-strong crowd cheered Rowe, who was born with no arms or legs after her mother took anti-nausea medication containing thalidomide. Rowe secured a multi-million dollar settlement from the drug's distributor, Diageo, last year.
Pakenham teenager Zach Stephens also drew a roar from the crowd when he ran his beloved Magpies team onto the ground. Stephens, another Slaters client, made headlines in 2010 when he refused to allow paramedics to cut off his signed Collingwood jersey after he was struck by a car.
Stephens' day got even better as he watched the Pies thrash the Dogs by 34 points.