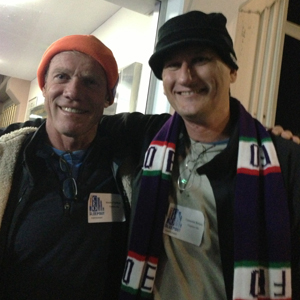 A number of law firm partners took to the streets last week to show their charitable side.
Partners from several firms took part in the annual St Vincent de Paul CEO Sleepout in cities around Australia last Thursday (20 June).
"Overall it was just an extraordinary experience; I mean it wasn't very pleasant, pretty hard concrete and pretty cold ... but it was a very sort of bonding experience in terms of the people there," said Clayton Utz partner Kevin O'Sullivan, who took part in the Perth Sleepout alongside fellow Clutz partner Cameron Belyea (both pictured right; Kevin on left and Cameron on right).
"The awareness you gain from having this sort of event is just extraordinary," Belyea told Lawyers Weekly, revealing that a number of homeless people recounted their stories of how they came to live on the streets to the 114 participants at the Perth event.
The pair revealed that it was tough to get any sleep, with the lights being turned on regularly and a street sweeper going about its work near them.
"The re-creation of what it feels like to sleep on the streets; that fear is what they try to pass on," said Belyea. "The noises, the sirens, the lights are the sort of things people in real life would experience, but the one thing we didn't experience was the fear of being physically assaulted while on the streets ... which was one of the topics a lot of the speakers spoke about."
As well as O'Sullivan and Belyea, Clutz had eight other partners participating: four in Sydney, three in Melbourne and their Brisbane partner-in-charge Alan Maguire in Queensland.
Other legal participants included: DLA Piper, whose Brisbane managing partner Paul Baxter participated and raised close to $2500; Colin Biggers & Paisley, who had its managing partner Dunstan de Souza (pictured left) sleeping out in Sydney; Maddocks' Peter Shaw and Chris Kinsella; Anthony Morrisey from Hunt & Hunt Lawyers; Matthew Barnes from Maguire & McInerney Lawyers, Access Law Group's Graham Lancaster and James Martin from the NSW Bar Association.
Business leaders from many different industries took part in what was the eighth annual CEO Sleepout and raised more than $5.3 million for St Vincent de Paul with their efforts.
Belyea and O'Sullivan raised just over $21,000 between them, with the Clutz participants raising just less than $95,000 in total.
"We went to our respective contact networks and sent a number of emails [about it] and almost without fail clients and friends and family came to the fore," said O'Sullivan. "[We had] terrific support."
Despite their restless night, the pair made it to work on Friday, though O'Sullivan admitted:  "People didn't want to sit very close to us ... and we certainly had a bit more coffee."
While both partners said the Sleepout was a great experience, Belyea was uncertain as to whether he would participate next year.
"I'm wondering if [participating again] would be an ego-driven approach; having now been made aware of the situation it may be the time to better invest into providing the support that we can through networks and contacts and influence," he said.
"But it was such a positive experience it would be very hard to miss next year."
Pictured below: The Melbourne participants