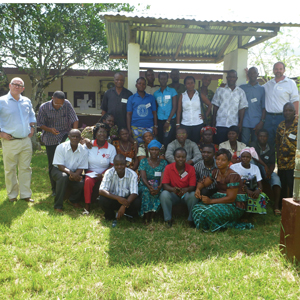 The skills of negotiation and mediation have a value even in war-ravaged Liberia, Steve Lancken discovered when he visited the West African nation.
The skills of negotiation and mediation have a value even in war-ravaged Liberia, Steve Lancken discovered when he visited the West African nation.
I went to Liberia to share skills in negotiation and conflict resolution with agriculture students, farmers, women's group leaders and academics.
"Why Liberia?" and "What are you going to do there?" are questions I was asked during many meals when discussing my prospective travels with friends. Those questions were asked with slightly more frequency even than demands to "be safe" by my family.
Liberia was colonised in the 1860s to provide a homeland for emancipated US slaves.
Before 2003 it suffered 16 years of bloody awful civil war. It has little oil and precious little industry; it has a GDP of $2 billion, less than 10 per cent of the turnover of Wesfarmers Limited.
It also has the first female president in Africa (Ellen Johnson Sirleaf) and some pretty violent neighbours, including Sierra Leone and The Ivory Coast.
Cuttington University in Liberia is a long way from the latte-sipping inner west of Sydney where I live. My inner westie friends enjoy a passion for social justice, six-figure incomes, million-dollar houses and frequent visits to restaurants, wineries, galleries and the theatre. So do I … except maybe not the million-dollar house. But do we inner westies really understand the complexities of different societies?
My 'journey' to Liberia began, I think, when I realised that, though I was good at talking about social justice and the inequalities that damage society and the planet, I knew sweet little of what Africa is like other than what I saw on Foreign Correspondent or in two weeks of relative luxury in South Africa during the World Cup.
I decided to study and attained a Master's Degree in Peace and Conflict Studies. My friends lovingly dubbed my study to be of war and pestilence when I bored them with my passionate defence of indigenous people rioting on Palm Island and Che Guevara invading and taking over Cuba. My knowledge advanced to the point that I could find Kenya and Liberia on a map and that my understanding about riots on Palm Island in 2004 was based on something more than what I read in The Australian.
My vantage point in Stanmore, alas, had me feeling detached from the topics I so endlessly discussed while studying. I was so intent on such discussions that my 26-year-old (economic rationalist) son dubbed me a left-wing hippy!
So, the next step was to go and explore the world outside my comfortable bubble and find out what it was like to live in a desperately poor West African country. Going as a tourist seemed rude really, so I thought the honest way to explore these worlds was as a volunteer, and that is how I got to Liberia.
Sharing skills
At Cuttington University I assisted 30 people — mostly vets and agriculture students — to learn about negotiation and conflict resolution.
Why vets and agriculture students? The vets don't look after "Misty the moggie" or "Judo the pup" or treat wild African beasts, and the agricultural students don't grow tomatoes or other tasty vegetables. They look after farm animals like pigs, cattle, goats and sheep. There are no animal hospitals and hardly any vets — and there is a desperate need for the protein that animals offer the diets of poor and undernourished Liberians. There is also a shortage of tomatoes and, in fact, any fresh vegetable other than okra.
Liberia does not have any significant oil or tourist destinations, even doctors work in exchange for food. In Liberia what you grow (or pick or hunt) is what you eat. As I know nothing about animal husbandry it was more logical that I teach something else that I know about with the aim of improving business skills and, for a country that has had a civil war of more than 10 years, conflict resolution skills seem to offer some value.
Different worlds
Travelling, teaching, eating and being are an adventure in Liberia; the country that was named to evoke Liberty. It not a pretty place. Pen-Pen drivers (motorbike taxis) are mostly retired child soldiers practiced in violence and lacking other skills, corruption is a way of life and the rule of law hangs on by a thread. Former president Charles
Taylor is still in jail for war crimes.
The people, however, are optimistic. It is as if they can recognise that they were poor during the civil war and they are poor without the war, but the latter is much better. Yes the people can see, through television (not in the evening when the power is turned off) and on the internet (when there is a connection) that the rest of the world has what appears to be unimaginable and unattainable wealth.
I wonder what George, who drove us to Cuttington from the nation's capital Monrovia, and invited me to his three-room home to meet his six children, including two born during the war, would think of the decadence of Dubai, through which I travelled to get to Liberia?
Of course I met many extraordinary ex-pats who are working in Liberia to build infrastructure and a fair society. The Chinese are building a new road between Monrovia and Cuttington University so that the 120km journey takes less than the present four and a half hours over pot-holed and mostly unsealed roads. There is the UN keeping peace, many NGOs doing development and capacity building in extremely trying conditions, and religious and other organisations working to offer the most basic education, healthcare and other social services.
It was during the workshop that I mixed with the most representative of the community. Teachers told me how they somehow managed to keep teaching the children of their villages during the war, even as the villagers fled the rebels. Women taught me of the present struggle of advocating for the rights of women in a society where many of the men were warriors in a war that nobody won.
Farmers expressed the sadness of losing any chance to learn and become an engineer or a mechanic, and told me how hard it was to raise chickens when there is no way to source chicken feed. And mothers and fathers hinted at the loss or innocence for them and their children as a result of the war.
George told us of the sadness of losing his father to a bullet in the war and his mother to a broken heart.
"Education will give my kids the chances I did not have" said George. I noticed that the cleanest clothes in the villages were the school uniforms, demonstrating the commitment that many have to education. If only they could have good roads too (and chicken feed) the country could be rich in a way that we of the inner west of Sydney do not understand
I spent about 20 hours discussing and teaching negotiation and conflict resolution with 30 people thirsty for any free learning on the program partnered by Mediators Beyond Borders International and Veterinaries Without Borders.
Did I make a difference? By myself I did not. But the programs that I worked on are ongoing, some with a 10-year life span, and will make the smallest difference over time. Even if one vet learns how to set up a clinic and save 10 pigs from dying in birth, or can stop a cow spreading a disease by showing a farmer the benefit of modern drugs, or can support a village to create the infrastructure that turns jungle into feedlots or tomatoes, that is a start.
Even if nothing is achieved immediately, at a physical level, I benefit from a real understanding of what it might be like to live in West Africa with no proper roads or sanitation, let alone the gourmet pizza places and Italian coffee shops that fill Balmain intersections. And to see is to appreciate how lucky I am to live where I do, to have the privilege to study and learn and achieve self-actualisation and to feel safe every moment of my life.
And how does this all fit in with my chosen career? Mediation is about opening the eyes of someone
to the reality of the other. To practise effectively I want to make sure my eyes are wide open to the
experience of everyone, even the Bangladeshi restaurant owner in Gbarnga who made me pepper soup or the trader who demonstrated to me the effectiveness of a set of external speakers for my laptop by playing
pornography on his laptop with the volume at full blast.
My inner west latte-sipping mates are wonderful, but they are just like me. Not George. He has had a very different life.
Steve Lancken (pictured top (on extreme left) with some of his students in Liberia) is a mediator and the managing director of Negocio Resolutions