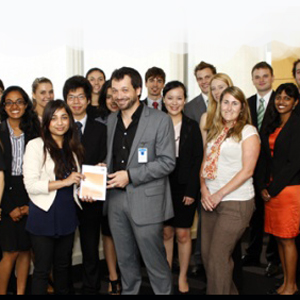 Corrs Chambers Westgarth's Sydney summer clerks have put together a social media guide for a mental health organisation as part of a pro bono project.
The guide, which offers recommendations on best practice for key legal issues, including duty of care, obligations under the Privacy and Spam Act and copyright, was presented to Inspire Foundation's CEO Jonathan Nicholas and clinical partnership manager Kerry Buhagiar on Thursday (9 February).
The Inspire Foundation (Inspire) is the organisation behind youth mental health service ReachOut.com, which offers tools and resources - including helpline information, fact-sheets and stories, blogs and forums - to young people at risk of mental health difficulties.
Corrs' summer clerks worked for over two months to research, draft and finally produce the social media guide, and said it was great to be involved in a project where they could work on relevant and engaging subject matter.
"It is crucial to Inspire that ReachOut.com remains relevant and accessible to all young people," said Inspire CEO Jonathan Nicholas.
"We want to ensure that Inspire remains world class in helping young people going through tough times. It is our aim to ensure ReachOut.com remains relevant and we continue to push into social media spaces. Technology will continue to play an invaluable role in the support we provide, with many of our young people increasingly accessing services via mobile technologies."
Nicholas thanked the summer clerks for their work and reinforced the importance of youth-driven projects for Inspire.
"The work done by the Corrs summer clerks touches many people in the organisation … This project reinforces our enduring belief that young people take the work they do seriously, to deliver tremendous results," he said.
Corrs' supervising partner on the project, Eugenia Kolivos, said social media was a "new frontier" for many organisations and that many of them do not have any established guidelines.
"The world of social media is complex and of great interest to a range of organisations," she said. "It has been very meaningful to do this work for Inspire. We hope this brings great benefit to their staff and volunteers, so they can continue to provide leading support for young people."