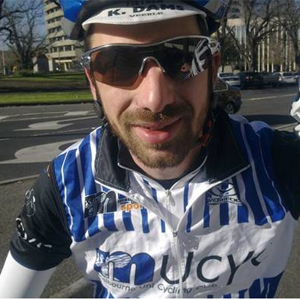 A Melbourne lawyer is saddling up to take part in this year's Ride to Conquer Cancer.
Wotton + Kearney solicitor Jonathan Katsanos (pictured) is taking part in the epic 200km, two-day ride alongside his parents and his uncle to raise money for the Peter MacCallum Cancer Centre.
"[Cancer] has affected my family directly and I think it's something we all feel quite strongly about," Katsanos told Lawyers Weekly. "The Peter MacCallum Cancer Centre is a particularly good institution ... so it's nice to do something to give back and try to raise some money for a very good institution."
The Peter MacCallum Cancer Centre is Australia's only public hospital solely dedicated to cancer treatment, research and education.
"It's [also] coupled with a big passion of mine, which is cycling, so it's a good combination of two things that I'm quite passionate about," added Katsanos.
Indeed, while Folklaw struggles to jog a few kilometres, super-fit Katsanos, who cycled competitively when he was in university, revealed that his training for the cycle isn't so different to his normal routine.
"I've been riding most weekends since I started working, so my training's probably not too different to what I would normally be doing ... normally I try to run four or five days a week, and then I ride on the weekends.
"I try to do a few 70km to 100km rides, which are not too dissimilar to the route of the [Ride to Conquer Cancer], so it will be familiar territory to me."
The cycle will take participants on a 200km route through Victoria's Mornington Peninsula on 26 and 27 October this year.
"Hopefully it's not raining, that's the only thing I ask," said Katsanos.
Well, it is Victoria, so Folklaw hopes Katsanos' hopes for good weather aren't too high...
Katsanos has just returned from holiday, so he said his fundraising efforts are only now starting to kick into gear. Each participant in the Ride is expected to raise $2500, so Katsanos said anything above that will be a bonus.
"Hopefully it should all start tumbling in; the firm ... has been very kind and has donated $500," revealed Katsanos.
However, he added: "I am lagging behind my other teammates, because I think my father's raised more than $6000, so I've got to catch up to him ... otherwise I might just have to beat him on the bike."