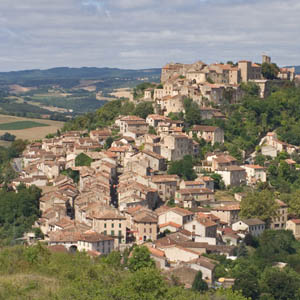 Cordes sur Ciel - the quaint little medieval village astonishes all who visit
Cordes sur Ciel continues to fascinate all who visit. Stunning old houses with stone walls hold the memories of those who have come before, and eagerly await the memories of the many people to come. Perched upon a hilltop, the spectacular scenery surrounding the quaint town astonishes all those lucky enough to witness it.
An important medieval town within France, Cordes sur Ciel was originally built to resettle and protect those caught up in the Albigensian Crusade in the 13th century. It later became a significant trading centre, however once the Canal du Midi was completed in the 17th century it meant the town was no longer on a main trade route.
Around the mid 1950s hordes of writers and artists began to settle in the city. It continues to be an artist's destination, offering those who visit a truly unique insight into medieval life as they wander through the rickety streets with wide wooden doors, cobbled pathways and winding alleyways.
The regions surrounding the Cordes sur Ciel also offer the curious visitor an unimaginable sight. The nearby region of Albi, now a UNESCO World Heritage Site, is often considered an undiscovered jewel of France. Numerous activities present themselves for those who want a bit extra; walking trails to soak in the sights as well as music and cultural events just to name a few.
Located near major airports and stations means this little medieval town is not so difficult to get to. There are many options for accommodation, however if you're looking for something quaint and authentic, you can't go past La Maison Oiseaux (pictured below), situated in the heart of the old village. Enjoy the sweeping views of the valley with the wide windows or outdoor terrace, relish in the local wines, indulge in delicious produce and relax in this glorious little village.