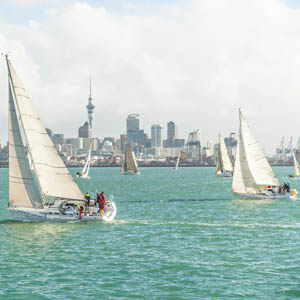 Take in the gorgeous sights of Auckland with Kirra Holidays
The little country to the bottom right of us, New Zealand seems to contain so much for its small size. Auckland on the North Island is one such city which needs to be traversed and explored if anyone is to call themselves an avid traveller. Affectionately nicknamed the 'City of Sails' due to the endless azure harbour dotted with crisp white sails, Auckland is generally the first port of call for tourists to the sheep-filled country.
For those a little unsure of where to start in this delectable city, Kirra Holidays offers the perfect four day experience to explore the backstreets of Auckland without having to worry about airport transport or accommodation, so you can focus entirely on getting the most out of your visit. This four day experience includes three nights in the centrally located 4-star Grand Chancellor Hotel, an exhilarating visit to Skytower where you get to indulge in 80 kilometres of uninterrupted 360 views of Auckland, as well as your return airport transfers.
For more information on this package or any New Zealand enquiries please contact Kirra Holidays – The New Zealand Specialists on 1800 044 183 or visit our website www.kirraholidays.co.nz