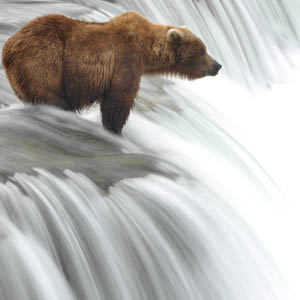 Destination Canada informs tourists what to see and do when visiting British Columbia
British Columbia; a stunning landscape of pristine lakes and waters, towering mountain ranges and teeming with wildlife. Bear capital of Northern America, where Orca's pose for the camera and fishing is as iconic as Australia's surfing scene.
Since we don't really get bears in Australia, British Columbia is a fantastic place to have your first bear experience. Home to around 12,000 grizzlys, a quarter of Canada's black bears and the rare white Kermode (Spirit) bear, you'll not soon forget the sight of a grizzly catching a salmon dinner, or a black bear ambling along amidst the stunning scenery.
Knight Inlet Lodge is a floating retreat tucked away where you can experience bear-spotting up close and personal. See them munching on berries for breakfast or, fingers crossed, a mother teaching her cubs to fish. The lodge also provides visitors with the chance of guided hikes and whale watching.
Watching a killer whale make a dramatic appearance from the water may conjure up fond memories of Free Willy, so keep your eyes peeled and prepare your reflexes to get that click of a camera in time.
Nimmo Bay Resort offers peaceful stays in remote wilderness settings where one can whale-watch, relax or hike up to the alpine mountain meadows and diamond blue glaciers of the Coast Range.
Of course fishing is a popular activity within British Columbia. Try your luck onboard the Canadian Princess Resort or if you get motion sickness or prefer to stay on dry land, April Point Resort or Painter's Lodge are recommended fishing destinations.
British Columbia's selection of wildlife, striking scenery and lush vegetation, delectable food, delicious wine and relaxing settings makes it a much anticipated bucket list option. Whatever you desire to experience, Destination Canada will be able to provide you with a wealth of information about this glorious region.