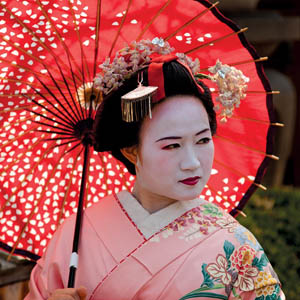 Five of Japan'smost iconic sights that are guaranteed to have your clients whipping out the camera for that perfect shot
GEISHAS OF GION
The world of the geisha is a mysterious and captivating one. Their porcelain white faces, painted red lips and intricate kimonos set these girls apart from the rest of society, forming an elite group that remains largely unknown to outsiders. One of the best places to catch a glimpse of these young women is Kyoto's Gion district, where tourists wander Hanami-koji Street after dark in the hope of witnessing a geisha walking between the teahouses to her next appointment. While overzealous photography is frowned upon, respectfully asking for a picture could result in capturing one of the most iconic images Japan has to offer. 
HIROSHIMA'S A-BOMB DOME
The sight of the crumbling remnants of a building have never been as moving and, surprisingly, inspirational as Hiroshima's A-Bomb Dome. The skeleton-like remains are the most recognisable symbol of the world's first atomic bombing in 1945. The haunting image of this structure is one that visitors cannot escape on a trip to Hiroshima - whether they be inside the Peace Memorial Museum learning how the events of that fateful day unfolded, or standing at the Cenotaph in the Peace Park - a tribute to the tens of thousands who died.
KYOTO's KIYOMIZU-DERA TEMPLE
It's rare to say that a place is equally beautiful during the day as it is at night, but that can certainly be said for Kyoto's Kiyomizu-dera Temple. During the day this beautiful structure provides extensive views of the city, looking out over a lush canopy of red, yellow and green foliage below. In the evening, the temple complex is illuminated to show off the brilliant hues of its many shrines and pagodas, as well as highlighting the path through the extensive gardens.
THE ISLAND OF MIYAJIMA
A short ferry ride from the coast of Hiroshima lies one of the crown jewels of Japan - the island of Miyajima. While there's a plethora of market stalls selling everything from octopus on a stick to giant wooden spoons, the main attraction is the Itsukushima Shine and its famous so-called floating torii gate. This red wooden structure captures the eye as it seemingly floats on the sea during high tide, framed beautifully by a backdrop of the island's Mount Misen. Miyajima is classified as one of the three Views of Japan and is a favourite among snap-happy tourists and locals alike.
ELUSIVE MOUNT FUJI
It's been painted and photographed by generations of artists and is still one of the most popular attractions Japan has to offer. The elegant Mount Fuji isn't the easiest mountain to photograph, due to it often being covered by haze or cloud, but that doesn't deter thousands of people from trying their hand at capturing the beauty of this gentle giant. Not only is Mount Fuji Japan's tallest mountain at 3776 metres, it's also a unique cultural symbol representing the quest for beauty and perfection.