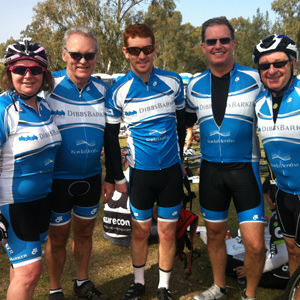 A number of DibbsBarker's lawyers and staff worked up a sweat recently to raise $111,000 for cancer research by taking part in the Rio Tinto Ride to Conquer Cancer in Brisbane.
This is the third year in a row the firm has taken part in the ride and in that time it has raised almost $300,000 to help fund the work of the QIMR Berghofer Medical Research Institute.
For the second year running, the firm was second only to the Rio Tinto team in terms of money raised, with this year's Brisbane event, which was held on 17 and 18 August, raising a total of $4.2 million.
"As a team we have been motivated to do as much as we can to help our country's scientists beat cancer. In doing so, we are also proud to count some of our clients as part of our team, and to train, ride and sweat alongside them in pursuit of a common goal," said Matthew Rollason, partner and Brisbane leader of the firm's DibbsREACH community involvement program.
The Dibbs team was made up of staff, clients, family and friends, with 29 riders and 34 crew members taking part.
While the riders sweated it out over two days on the 200km course (left), crew members had the important job of taking to the wheels of sweep vehicles and helping riders along the route, providing refreshments, first aid, mechanical support and encouragement.
The law firm earned praise from the QIMR Berghofer Medical Research Institute, with CEO and director Frank Gannon saying: "We would like to extend a big thank you to the DibbsBarker team for their extraordinary efforts on the weekend. Their support not only provides a huge financial boost for our medical research, it's also an important morale boost for our scientists to know that the community values them and what they're trying to achieve. It was heartening to see a sea of DibbsBarker blue at the Rio Tinto Ride to Conquer Cancer."
Dibbs has worked with the Institute for four years through its DibbsREACH program; the Institute focuses its research efforts on cancer, infectious diseases, mental health and a range of complex disorders.
Dibbs lawyers aren't the only ones taking part in the annual Ride to Conquer Cancer, with Wotton + Kearney lawyer Jonathan Katsanos set to take part, alongside his parents and uncle, in the Melbourne event in October.
Pictured top right: Some of the Dibbs team: Debra McCosker (LexiMed); Judge Michael Forde; Liam Fraser (DibbsBarker); Stuart Allison (RBS Morgans); Paul Myers