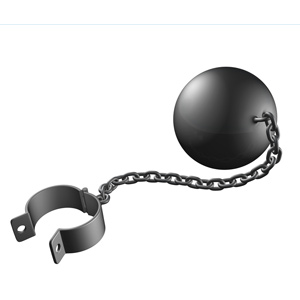 A lawyers' clerk in the UK has been arrested after she texted a prisoner who was using his phone to plot his escape.
The Daily Mail reported that Sarah McCabe (33) sent texts to Ryan MacDonald after he smuggled a phone illegally into prison.
A few weeks later, 20-year-old MacDonald and a fellow inmate made a run for it from their prison van on the way to court.
They were recaptured a few days later.
David O'Reilly Solicitors in Salford in northern England, who McCabe works for, was acting for macDonald after he was arrested in connection to the theft of jewellery from pawnbrokers.
Prisoners are not allowed to have mobile phones in the big house, even in this day and age of selfies and Facebook.
While the nature of the texts themselves was fairly trivial, prosecutors allege that had prison authorities being alerted to the fact that MacDonald had a phone the escape might have been foiled.
"Not only does that cause security problems for the prison but it brings the legal profession into disrepute," said District Court judge Jane Goodwin.
McCabe faces six months in jail for assisting an offender and she will be sentenced later this month.
Folklaw, a lover of British cop shows such as The Bill and The Sweeney, is expecting this plot line to reappear in a BBC production in the near future...