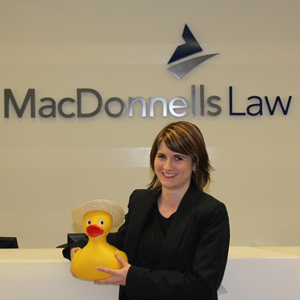 Queensland firm MacDonnells Law has come up with a quacky way to raise money for charity – taking part in the Great Brisbane Duck Race.
"The event is run like a bit of a festival – a family fun day," explained Kate Black (pictured), the MacDonnells associate who is organising the firm's involvement.
The Duck Race involves both team and individual events. The team events include a motorised duck race, where team members build a mini motorboat and send a duck down the river in it; a non-motorised duck race, and a race that sees participants rowing down the Brisbane River in giant rubber ducks.
The main event of the day though is where 40,000 individual rubber ducks are released into the Brisbane River to 'race' down a 100m course; each duck has a ticket number on the bottom and whoever holds the ticket that corresponds with the winning duck will win a car worth $25,000.
"Our firm has decided to enter all the races and we will also have a tent at the event; the only event we haven't entered is the event where you row down the river," said Black.
"We're very excited about it and I know that our staff and family members are also very excited about it."
All funds raised by the Race, which takes place on Sunday 20 October, go to the Queensland-based PA Research Foundation, which is where the cervical cancer vaccine was discovered; the Duck Race is its signature fundraising event for cancer research.
"We have a number of staff and family members that have been touched by cancer and we thought this was a great opportunity to show our support for the cancer foundation and give back to the community," said Black. "We do a lot of community sponsorship in Cairns and Townsville as well and we thought this would be a good way to start that up in Brisbane."
Almost everyone in the firm's Brisbane office, along with some family members, are involved in fundraising, according to Black, and the firm has so far raised $1840, with its aim being $3000. Most of the donations have come through the MacDonnells Fluffy Ducks fundraising page and the firm also held an event called Ducktober, where a raffle was held with all money raised going toward the cause.
"If we can raise more [than $3000] we'd be really happy," said Black. "Our Townsville office recently took part in a fundraising event for the Avner Nahmani Pancreatic Cancer Foundation and raised $17,000 for pancreatic cancer research, so we would be hoping to get close to that in Brisbane."