Sleeping lawyer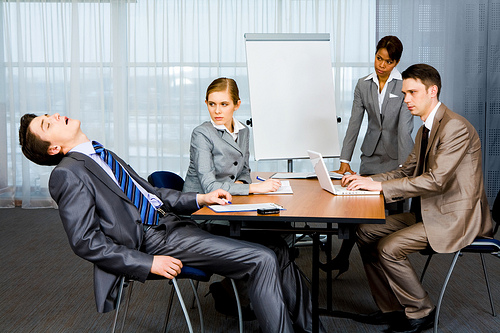 We've all slept through something important at some stage but by far the most noteworthy has to be sleeping through a court case
We've all slept through something important at some stage but by far the most noteworthy has to be sleeping through a court case.
JD Journal reports that Texan defence lawyer Martin Zimmerman slept through his client's case. Zimmerman never submitted his plea, which could have spared his client 20 years in prison, and was accused by his client of not calling a single witness.
Folklaw remembers one time snoring very loudly through an entire church mass.
Daniel Textor Jr (37) told District Judge Dib Waldrip "this man has been sleeping through my trial. This is the same man who didn't even know my name during … choosing my jury. This man said my name was Jonathan Dextor." Ouch.
Textor was arrested for drunk driving on August 8 2010, according to the New York Daily News. He claims that Zimmerman only briefly cross-examined the two prosecution witnesses in his case.
Textor was accused of "spitting on the arm of a police officer" and is looking at 60 years in prison as well as another 28 years for drunk driving with a minor passenger. Textor told Zimmerman to "accept the prosecution's plea deal of 45 years for harassing a public servant and 20 years for DWI."
That would mean, with the shortened sentence, Textor would be 105 when he would become a free man. Good luck, Daniel, Folklaw  is sure that this shortened plea will have a big impact on your future…
Since Zimmerman never submitted the plea, Textor complained to District Judge Dib Waldrip. Judge Waldrip was aware that Zimmerman had a habit of snoozing through trials and advised Textor to "file a motion to replace his lawyer."
Textor replaced his attorney with Deborah Wingington who immediately asked for a new trial. Assistant District Attorney Sammy McCrary sympathised with Textor and reinstated his original plea.