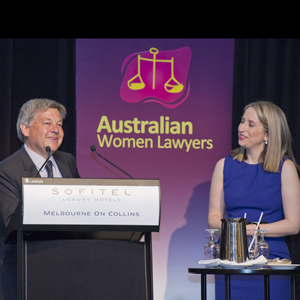 The Women in Law Awards provided an opportunity for the funny side of the profession to show its welcome face.
The Women in Law Awards provided an opportunity for the funny side of the profession to show its welcome face.
Folklaw loves a shindig, and it made sure it had its party hat on when attending the Lawyers Weekly Women in Law Awards on Friday 18 October.
In addition to hearing inspiring speeches from the likes of Amy Challans, Kate Ashmor, Fiona McLeod SC and Betty King QC, the evening featured many hilarious moments that will linger long in the memory of all lawyers and lay folk that were at Melbourne's Sofitel Hotel on the night.
The great Dame Roma Mitchell, Australia's first female silk, judge, university chancellor and state governor, was quite rightly sighted as a source of inspiration by the aforementioned Kate Ashmor and Fiona McLeod.
However, John Sheahan, from Sheahan Lock Partners, remembers the Great Dame for entirely different reasons.
Sheahan (pictured in full flight with MC Kate Ashmor) told the maddening throng that he first met Dame Roma on a flight from Melbourne to London many moons ago.
It was a convivial journey for the two of them, well it was until Sheahan mistook her for another famous Dame.
"I had the great pleasure to meet Dame Roma and it was probably my biggest faux pas of all time," said Sheahan, as he reminisced about the days when you would put on your Sunday best to travel and enjoy a cocktail in style a few thousand feet in the air.
Sheahan recounted that "somewhere over Russia", Dame Roma apologised for waking John up as she needed to squeeze past to stretch her legs, to which Sheahan replied; 'Dame Edna, don't worry about it'.
Folklaw sympathises with ya John, as long-haul flights can have anyone not knowing Arthur from Martha.
While Sheahan had the crowd rolling in the aisles, Steve Lancken from Negocio Resolutions had everyone scratching their heads when trying to see if you could divide 17 goats by three.
When presenting the Pro Bono Award, Lancken was relaying the story of how a mother in a small Spanish village had divided her 18 goats to her three daughters.
Unfortunately, she left half of the herd to her eldest daughter, one third to her middle daughter and one ninth to her youngest daughter, leaving one goat like Buddy Franklin as a free agent.
Lancken said that as a trained mediator and conflict resolution expert, he was "searching for the 18th goat every day of his life".
"I thought I found the 18th goat today Kate, but the barrister wanted to kill it," he told Kate Ashmor, the evening's bemused MC.
"But that is unusual because most lawyers are very good at finding the 18th goat."
Hmmm. Folklaw reckons that the goat would probably want to be able to munch leaves and roam the plains and fields freely without being accosted by a lawyer.
Look at what happened when the lawyers got involved in the case of Gary the Goat.
Still, Lancken's anecdote struck a chord, with Patricia Matthews from King & Wood Mallesons telling the crowd that "she is so going to use that" when addressing a crowd of humans in accepting the Award.
Winning hearts and minds
The How to win friends and influence people award would undoubtedly have gone to Chrissa Loukas SC.
In a powerful acceptance speech, Loukas, the winner of the Senior Barrister Award, thanked her husband Robert Karlsson, getting the crowd onside by stating that as Robert is from Sweden "he thinks that Melbourne is better than Sydney".
Ouch Chrissa!
Sure, if you are looking for a bootleg copy of a Leonard Cohen album and want to be served in a pub by a bloke wearing Richmond footy shorts, Melbourne is great.
In fact, prior to the Awards, Folklaw needed to brief an eminent Melbourne silk that had never heard of the incomparable Radiohead that they were like "Leonard Cohen with guitars" in order to bring her up date with Gen X tunes.
For the Gen Yers out there, Radiohead are an all-male five piece from the UK, just like One Direction, but unlike One Direction their songs are more impressive than their hair.
Anyway, Chrissa also brought the house down when she talked about her four-year-old son, whom she described as her "work-life balance enforcer".
"He has already worked out that when my glasses are on and my hair is in a bun I am in work mode," she said.
"So when I get home or pick him up from pre-school he says 'glasses down and hair off mummy'.
"And when I have had a particularly fraught day in court 'and no angry face'".
With speakers and Award winners the calibre of Chrissa Loukas SC, everyone was smiling.