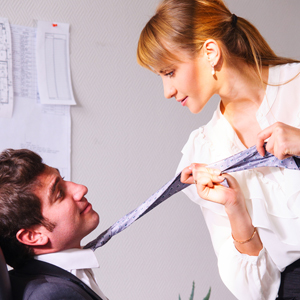 The High Court has confirmed that having sex on a work trip cannot be considered part of your official duties.
Folklaw previously covered the story about the Federal Government employee who was injured while enjoying some 'private time' with a male 'friend' while on a business trip in a country town in NSW in 2007.
The woman said she was injured when a light fitting became loose and fell on her while she and her male companion were having sex.
The earth must really have been moving in that motel room...
The woman said the light hit her in the face, injuring her nose, mouth and a tooth and also causing a psychiatric adjustment disorder, according to ABC News. She was treated in hospital following the incident.
ComCare, the Government's workplace safety body, initially accepted the woman's claim, but they later revoked it, a decision that was upheld by the Administrative Appeals Tribunal.
However, in April last year the woman won an appeal against those decisions in the Federal Court, with her employer ordered to pay her court costs.
At that time, the judge in the case, Justice John Nicholas, said that if the complainant had been playing cards in the hotel room at the time of the incident she would have been entitled to compensation and this incident was no different.
Hmm, Folklaw is unsure if the complainant would have been playing cards quite so, ahem, vigorously...
ComCare lodged an appeal against the Federal Court decision on four grounds, including that the court was wrong in finding the woman's injuries were caused "in the course of her employment"; the High Court accepted ComCare's case that it was not liable because the incident happened after hours.
Federal Employment Minister Senator Eric Abetz told the ABC that the High Court ruling in the "infamous sex case" was a victory for common sense.
"This decision protects the currency of workplace safety, which was in serious danger of being trivialised by this claim," Senator Abetz said.
"This decision also means that the definition of 'work-related injury' is more clearly defined."
Hmm, Foklaw supposes it depends on the type of workplace...
However, the head of workplace law firm People + Culture strategies, Joydeep Hor, said that this ruling shouldn't lure bosses into a false sense of security as we head into the bad-behaviour, office-party season of the Melbourne Cup and Christmas.
"I think employers shouldn't get too excited by this High Court decision when it comes to this time of year," he told Folklaw. "The issues that will make their way back into workplaces as a result of errant conduct, such as at Melbourne Cup celebrations and Christmas parties ... are the risks that employers have to manage very carefully."
You have been warned!