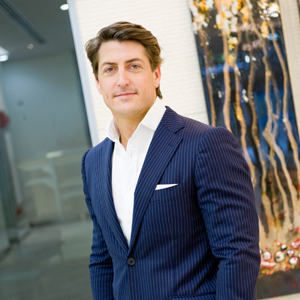 He wasn't good enough for Mark Bouris, but former reality TV star Gavin McInnes is the man chosen by one Brisbane law firm to make its push into Sydney.
Folklaw readers might remember McInnes (pictured) as the buff lawyer on The Apprentice TV show in 2009.
Folklaw, whose standards slipped somewhat during that year, laughed out loud along with the rest of Australia as Gavin would strut around shirtless and do battle with other contestants for the affection of Wizard Home Loans founder Mark Bouris.
While Gavin lost out to Andrew Morello (what has happened to him?) he certainly landed on his feet, becoming a partner at Rostron Carlyle Solicitors in 2012 and then managing partner in 2013.
Take that Bouris! You are not the only impossibly tanned and immaculate coiffured hotshot on the corporate block who gets to call the shots.
This week it was announced that McInnes, a former senior associate at HWL Ebsworth, will be returning to Sydney to spearhead Rostron Carlyle's push into the Sydney legal market.
The Brisbane firm has acquired the Sydney outfit Maunder & Jeffrey, with that firm now trading under the Rostron Carlyle moniker.
"With many of our clients located in both Brisbane and Sydney, and with these clients having  business and property interests in both of these states, it seemed only a logical progression to expand our presence into the Sydney and the greater NSW market," said McInnes.
Rostron Carlyle has around 60 staff in Brisbane, and its Sydney office will have around a dozen folk on deck.
 In a crowded legal market, McInnes will certainly stand out from the crowd.
Folklaw wishes him and the firm luck and wonders what the chances are of Bouris slinging the new boy on the block some work to help him find his feet?