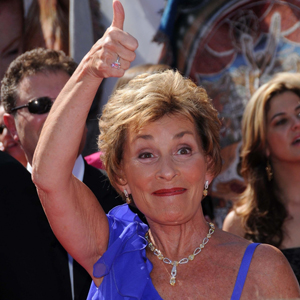 TV's Judge Judy has filed the first lawsuit of her life against a personal injury lawyer she alleges used her image without authorisation in advertisements falsely suggesting she had endorsed his firm.
Judith Sheindlin (pictured), the plain-speaking retired Family Court judge who has starred in Judge Judy for 18 years, said the unauthorised use of her name and image was "outrageous" and required action, according to WMBF news.
The federal court suit Judge Judy filed in New Haven seeks more than $75,000 in damages from Hartford, Connecticut attorney John Haymond and his firm. And in a move that has catapulted the feisty ex-judge to the top of Folklaw's hero list, Sheindlin said in her statement that any money she wins through the lawsuit will go toward college scholarships through the 'Her Honor Mentoring Program'.
The lawsuit said that without Sheindlin's permission, Haymond's firm aired television advertisements combining footage from "Judge Judy" along with clips showing Haymond and his daughters.
It said the advertisements aired in Connecticut and Massachusetts during broadcasts of her show, and continued even after Sheindlin's producer told the firm in March 2013 that use of her image was not permitted.
"By trading, without consent or authorisation, on Sheindlin's well-known persona, the Haymond Defendants have irreparably harmed and damaged Sheindlin's hard-earned professional and artistic reputation, dignity, and prestige," the lawsuit says.
But Folklaw thinks that, characteristically, Judge Judy summed up the matter most succinctly herself.
"Mr. Haymond is a lawyer and should know better," Sheindlin said in a written statement.