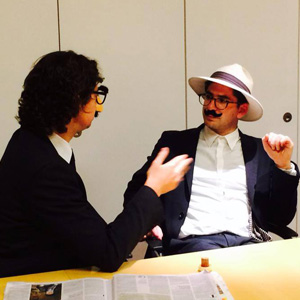 A group of Melbourne lawyers are putting on a comedy to help tackle the high rate of depression in the law.
The Law Revue stage show is back after a successful debut at the Melbourne International Comedy Festival last year, which saw the troupe rate higher than a couple of international stars – not mentioning any names (Arj Barker).
Max Paterson, The Law Revue director and a lawyer at Landers & Rogers, told Lawyers Weekly that the performers weren't the only ones who were surprised that their unique brand of comedy could attract a 4.5 star rating in the Herald Sun.
"Friends and colleagues who supported us were impressed by the professional nature of the show and the standard of comedy on offer," he said.
Last year's show featured smoking monkey puppets and a bureaucratic plot to outlaw the sun.
The random series of sketches not only drew belly laughs, they also drew a crowd.
The event raised $10,000 for the Tristan Jepson Memorial Foundation (TJMF), which is about to launch a set of voluntary industry guidelines that help firms and other organisations improve psychological health and safety in the workplace.
Paterson revealed that this year's audience could expect an equally absurd "grab bag" of sketches that "poke fun of everyone and anyone", with a few cerebral moments in between.
The performers include lawyers from K&L Gates, Ashurst, Minter Ellison, an ASIC investigator and a handful of judge's associates.
Paterson said the eclectic ensemble has a few fresh faces that were selected from around 40 lawyers who auditioned for the 2014 production.
"There has been a tremendous response from the far flung corners of the legal profession," he added.
The production company behind The Law Revue, BottledSnail Productions, has engaged 125 lawyers in creative projects over the last 12 months. Among the projects was a sell-out season of 12 Angry Men in the Victorian Supreme Court and a concert by the 50-member Melbourne Lawyers' Orchestra last weekend (22 March).
The success of these events is a testament to the creative talent within the legal profession, said Paterson.
He added that lawyers are particularly skilled at crafting a good joke.
"There are similarities between the construction of a good joke [and] making a compelling legal case ...  it has to gel together to work," he said.
"A lot of our analytical skills are brought to bear when creating comedy."
The Law Revue will take place over four nights, from 1 to 4 April, as part of the Melbourne International Comedy Festival. Paterson hinted that the best seats are still available on opening night.
For more information on the show and the Melbourne International Comedy Festival, click here.