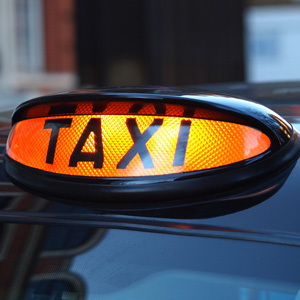 An incident involving a Louisiana lawyer and a taxi driver has resulted in criminal charges against both.
In a convoluted, steamy plotline worthy of Tennessee Williams or Truman Capote, lawyer Jennifer Gaubert, 33, was convicted last week of simple battery concerning unwanted contact with cab driver Hervey Ferrell.
The driver's account of the April 2012 encounter, during which he claimed to have rebuffed his female passenger's unwanted sexual advances, was supported by a cellphone video he took of part of the incident, the New Orleans Times-Picayune reports.
Gaubert has said she will appeal the misdemeanour conviction. Sentencing is scheduled for next month.
Meanwhile, a felony trial still looms next month for the lawyer and former radio show host, who is accused of lying about the taxicab incident to authorities last year in order to get Ferrell arrested.
But there's also a third case coming Gaubert's way, because Ferrell has filed a federal civil rights suit against both Gaubert and city officials. He alleges that he spent 27 hours in Orleans Parish Prison, was publicly humiliated in the news media and lost his taxi licence for several months during an administrative investigation of false claims by Gaubert that were not adequately investigated by law enforcement prior to his arrest in 2013.
The criminal case against Ferrell, now 39, was dropped when Orleans Parish District Attorney Leon Cannizzaro refused to pursue it. Instead, he charged Ferrell with filing false statements.
An earlier Times-Picayune article provides additional details about Gaubert's accusations against Ferrell. She claimed he shot explicit "upskirt" footage of her without her permission during a consensual encounter after she had been drinking, and then sought to obtain money from her in return for turning over the film.
In his civil rights suit, Ferrell claims he was arrested for video voyeurism and extortion based on unsubstantiated claims by Gaubert. He also complains that law enforcement did not talk to him, look at the cellphone video or review the police report he made at the time of the 2012 incident before arresting him.
Those in charge of the criminal investigation of Ferrell "did not even require the minimal step of requiring a search of prior reports regarding this incident, or open criminal litigation in the parish in which these officers operate, prior to issuing a baseless arrest warrant," his lawsuit states.
Gaubert told the Times-Picayune last year that she regretted her actions concerning the taxicab incident but had done nothing wrong.
Yes readers, this tale comes to you in the great tradition of the Southern Gothic, a sort of Midnight in the Garden of Good and Evil filmed on a phone inside a New Orleans cab.