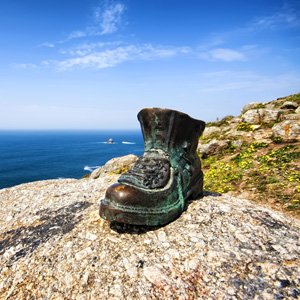 The head of Ferguson Cannon Lawyers will be among a trio of high-fliers hitting an 800km pilgrimage trail in Spain to raise money for charity.
Sunshine Coast lawyer Glenn Ferguson will be trudging the historical Camino de Santiago route with the noble aim of raising funds for the Safe Streets charity organisation and for the Brighter Future 4 Kids Foundation.
To raise funds for these two charities, Ferguson and Sunshine Coast businessmen Peter Poli and Martin Vigar will head to Spain where they will walk for over 30 days along the Camino de Santiago to the reputed remains of St James (Santiago), one of the 12 apostles.
The 1000-year-old pilgrimage route begins in the Basque region in France and stretches over 800km through the foothills of the Pyrenees to the Santiago de Compostela, passing through mountains, farmlands, urban areas, ancient rural hamlets and forests.
Ferguson, who recently took over the role as chairman at Safe Streets, said the charity's focus was on the primary prevention of violence in the community.
"The aim is to encourage a broad shift in attitude, throughout Queensland, to reject tolerance of all forms of violence. Everyone deserves to feel safe and live in a community free of violence."
Ferguson, also a board member of The Brighter Future 4 Kids Foundation, said the charity aimed "to meet the physical and nutritional needs of disadvantaged children living in Australia through the implementation of ongoing, practical, sustainable school-based intervention programs to break the cycle of poverty. This is done by simple measures, such as providing nutritional information and school shoes."
The three men are seeking donations for both charities, whether one cent or one dollar per kilometre, or more.
Folklaw reflects that it is not very often on this mortal coil that lawyers find themselves on the side of the angels, and wishes Glenn Ferguson and friends all the best. The trio, who have been practising hiking throughout the Sunshine Coast hinterland with backpacks full of weights, begin the journey on 2 May.
To learn more about these pilgrims' progress, the charities involved or to make a donation, visit www.3amigosonthecamino.com.au