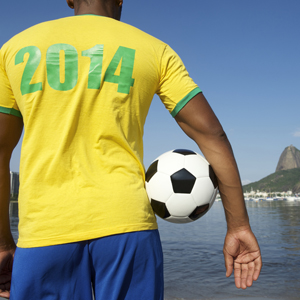 Folklaw has often wondered if law firms were people, who would they support at the World Cup? Part 1 of Folklaw's guide to the Cup provides some answers
Folklaw has often wondered if law firms were people, who would they support at the World Cup? Part 1 of Folklaw's guide to the Cup provides some answers…
Get excited people, the World Cup is about to start!
Folklaw has taken the time to analyse all 32 teams across the eight groups, showing their strengths, weaknesses and, more importantly, what each team will be listening to on the team bus. We also employ the highest standards of forensic and comparative analysis in deciding which of our most esteemed law firms would be most likely to support as mascots.
Today Folklaw profiles groups A to D in the Cup, with groups E to H to follow tomorrow.
Group A
Brazil
The host, but questionable if they have the most. Brazil has traditionally been the gold standard for international football teams, but not anymore. Internal dissent and some questionable recent performances on the park have left many people wondering if they will ever get the old mojo back.
Key player: Neymar. A reminder of how things used to be
Law firm mascot: King & Wood Mallesons
World Cup song: Revolution, The Beatles
Folklaw's prediction: This fading star won't win. Semi-finals at best.
Cameroon
One of Folklaw's favourite teams. Cameroon always play with style, sophistication and swagger, with Roger Milla's sexy goal celebrations at Italia 90 still providing the basis on which Folklaw swings its hips on the dancefloor. While they will turn admiring heads, they are not contenders.
Key player: Fabrice Olinga. The heir-apparent to the wonderful Samuel Eto'o
Law firm mascot: HopgoodGanim
World Cup song: I like the way you move, Body Rockers
Folklaw's prediction: Won't get past the group stage.
Croatia
Romance and fairy tales; each World Cup provides a little of both. In 1998 Croatia's footballers gave its inhabitants something to cheer about after the horrors of war that preceded the Cup, with the newly-independent country becoming the sentimental favourites for many football fans. They got to the semi-finals in 1998, but like Air's Moon Safari album of the same year, a spectacular debut has been followed by functional rather than brilliant performances.
Key player: Luka Modric. Left Spurs to join Real Madrid. This demonstrates clear thinking and a head for football
Law firm mascot: Atanaskovic Hartnell
World Cup song: Kelly watch the stars, Air
Folklaw's prediction: Second round, but no further.
Mexico
World Cup trivia time: Mexico is one of only three teams to make it through to the second round at the last five World Cups. Spoiler to the romantic story alert: Unlike the other two teams to have achieved this feat – Brazil and Germany – they have lost every single time. While they warm the cockles of the heart of football purists and romantics alike, this Cup will not see the extraordinary aforementioned streak brutally finished.
Key player: Jose Juan Vazquez. Has the best name in the Cup, the best nickname (El Gallo, Spanish for 'The Rooster'), but one of the worst haircuts. Nowhere to hide if this defender slips up
Law firm mascot: Maurice Blackburn
World Cup song: Rooster, Alice in Chains
Folklaw's prediction: Leaving Brazil before the end of June.
Group B
Australia
Oh boy, how do we dampen expectations? The so-called 'golden generation' of 2006, who were more of a 'canary yellow' really, is all but gone and the newbies are not as good. It will be a triumph if they score a goal during the tournament and an absolute astonishment if they win a match. FIFA get almost everything wrong, but in ranking Australia as the weakest team in the Cup, they are spot on.
Key player: Mat Ryan. The man who plays for the team (Club Bruges) that represents the city that once hosted Ralph Fiennes in a movie (In Bruges) needs to be at his brilliant best to provide a Hollywood-style ending for the Roos
Law firm mascot: TressCox Lawyers
World Cup song: Desolation Row, Bob Dylan.
Folklaw's prediction: More of a gritty, sad, Ken Loach-style ending than a Hollywood fairy tale.
Chile
The potential of this team is scary. They possess flair across the park and have an unwavering commitment to attacking football, yet have defenders who are both hard and stylish. If there is one team Folklaw would like to do well it is the Chileans.
Key player: Arturo 'Gore' Vidal. The brilliant Juventus midfielder has more tatts than a rugby league player. But don't be deceived by appearances, Vidal has the guile of his American literary namesake
Law firm mascot: Slater & Gordon
World Cup song: Heroes, David Bowie
Folklaw's UPSET PREDICTION: Chile to progress to the second round at the expense of The Netherlands. If there is a God, they will go further.
The Netherlands
Traditionally one of Folklaw's favourite teams; not just because they wear orange (we love it!), but because they, more than any other country with the exception of Brazil, have encapsulated what the beautiful game is all about. Names like Johan Cruyff, Ruud Gullit and Dennis Bergkamp have made the world a better place. But … their performance in the final in 2010 shamed this proud footballing nation as they tried to kick the Spanish off the park. They have a coach in Louis van Gaal, who is thinking about his next gig at Man United, a captain in Robin van Persie, who is under an injury cloud, and Spain and Chile in their group. The football Gods are about to catch up with them…
Key player: Wesley Sneijder. Wes ain't the player he was four years ago, which is the case for much of this team. If he rediscovers some old magic, they might get through to the knockout stages
Law firm mascot: Allens
World Cup song: Baby don't forget my number, Milli Vanilli
Folklaw's prediction: The team will be comfortably ensconced at home in time to watch the second half of the tournament on the telly.
Spain
Reigning World Cup champs and reigning European Champs – the Spanish have dominated world football for the last five years, but all good things come to an end. Like the Dutch, many key players are half-a-yard slower when compared to four years ago. While Spain will be a tough opponent, they will not lift the Jules Rimet trophy.
Key player: Diego Costa. A Brazilian returning to his home country wearing the kit of his adopted country. It will be interesting to see how this goes down in the bars of Sao Paulo, which Nick Cave used to frequent
Law firm mascot: Herbert Smith Freehills
World Cup song: History never repeats, Split Enz
Folklaw's prediction: To depart in the semi-finals, with heads held high.
Group C
Columbia
The Colombians enter this tournament as an unknown entity. They are the eighth team on the FIFA rankings, but it will be a minor miracle if they got through to the quarter-finals. Group C is the weakest group in the tournament, but despite that, it is doubtful if they will profit from this.
Key player: James Rodriguez. The Monaco midfielder has the style that befits playing in a city that used to count Grace Kelly as a resident (don't get Folklaw started on Nicole Kidman as Grace Kelly…)
Law firm mascot: Maddocks
World Cup song: Dressed for success, Roxette
Folklaw's prediction: To bow out in the first round
Cote d'Ivoire
Cote d'Ivoire is a joy to watch. It is the strongest of the African teams taking part, but like the Dutch, aging star players have many pundits asking if they can get out of the group stages for the first time in the country's history. Folklaw thinks they will.
Key player: Yaya Toure. The Manchester City player is poetry in motion, but off the pitch he can be petulance personified. He recently caused a stink when complaining City did not celebrate his birthday properly. Toure is paid more than $300,000 per week
Law firm mascot: Gilbert + Tobin
World Cup song: It's my party and I'll cry if I want to, Lesley Gore
Folklaw's prediction: Potential quarter-finalists
Greece
Greece provided one of football's greatest stories when it won the European Championships in 2004. Raucous celebrations followed, and it was a good thing the Greeks partied hard then because the GFC hit them hard and they are still to recover. This World Cup won't provide a chance to relive 2004.
Key player: Georgios Samaras. The Celtic man with the luscious locks is a stylish figure on and off the pitch. Greece needs him to get stuck in if the team is to stay in contention
Law firm mascot: Clayton Utz
World Cup song: Glory days, Bruce Springsteen
Folklaw's prediction: Will go home early
Japan
Japan is the strongest team from Asia at the Cup and one of the tournament's quickest and most skilful. An excellent counter-attacking team, Japan should put countries like Greece to the sword, but will struggle against the bigger fish.
Key player: Keisuke Honda. The AC Milan playmaker is world class and the team will need him at his artful best
Law firm mascot: Hall & Wilcox
World Cup song: Tokyo (Vampires & Wolves), The Wombats
Folklaw's prediction: Second round but then sayonara.
Group D
Costa Rica
Oxfam recently released a report that found that if the World Cup was based on fighting inequality, Costa Rica would be handed a 'red card'. No joy will be found on the actual football pitch either, and with their coach Jorge Luis Pinto banning the players from having sex during the Cup, there will not be much joy off the pitch either.
Key player: A fair chunk of Costa Rica's fortunes will be on the shoulders of striker Bryan Ruiz
Law firm mascot: Gadens
World Cup song: Blame it on the boogie, The Jackson 5
Folklaw's prediction: Plenty of time for dancing after the group stages.
England
Oh lordy, where do we start? At every recent Cup England is built up way, way above their station, play like rubbish and go home to face trial by tabloid. This time around no one is expecting much from them, and that is a good call.
Key player: Ross Barkley. The Everton man is 20 and plays with the carefree nature of a 20 year-old. Cautious England probably won't pick him though
Law firm mascot: Ashurst
World Cup song: Hey, that's no way to say goodbye, Leonard Cohen
Folklaw's prediction: Inglorious first round exit.
Italy
Cynical, calculating, boring. They could be so much more attractive, but rarely are.
Key player: Andrea Pirlo. The man strokes his passes like you can imagine him stroking his impressive beard by a log fire on a cold Turin evening. A thinker and a gentleman
Law firm mascot: HWL Ebsworth
World Cup song: This is how we do it, Montell Jordan
Folklaw's prediction: Quarter-finals, unfortunately.
Uruguay
Brazil, my friends, is happy turf for Uruguayans. The South-American nation won 1950 World Cup here, silencing the 170,000-strong crowd at Rio's Maracana when they won the final against the host. The team was a semi-finalist in 2010 and, you know what, this team has a similar vibe…
Key player: Luis Suarez. The Liverpool man is under an injury cloud, but the word from Folklaw's spies in Montevideo is that he is ok. He has done some disgraceful things on the pitch previously, but if he cuts out the biting and stays focused, he can do things no one else can
Law firm mascot: Arnold Bloch Leibler
World Cup song: Don't bite your friends, Yo Gabba Gabba!
Folklaw's prediction: Will beat England, won't lose to Italy and will qualify for the second round. Semi-final prospects.
See Lawyers Weekly tomorrow for all the goss on the teams from Groups E to H.