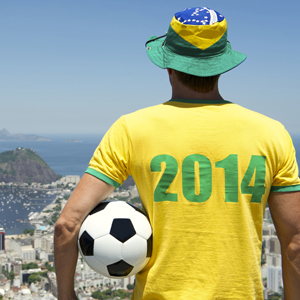 Which football team has DLA Piper as a mascot? Who listens to The Who? And which country will WIN the World Cup. Find out here in Part 2 of our World Cup special.
Folklaw would like to send a big thank you to all the folks out there who have asked how we match firms to teams and which firms are still to be featured. Like Moe from The Simpsons, Folklaw does not give away its secret ingredient, but it would be fair to say that a dartboard, a dark room and the employment of a spiritual consultant on an alternative, success-based fee arrangement were all part of the mix…
And to the disbelievers, Folklaw would like to point out that its nominated key Brazilian player, Neymar, scored two goals in Brazil's 3-1 victory over Croatia for a cracking start to the tournament. OK, on with the show.
Group E
Ecuador
Folklaw has high hopes the Ecuadorians will be the surprise packet of this weak group. They have qualified for three out of the last four World Cups and are a football nation on the rise. Will entertain and are set to preen a few feathers from the big birds.
Key player: Antonio Valencia. The man who is so frustratingly inconsistent for Manchester United is due for a big performance. This World Cup will be that time
Law firm mascot: Addisons
World Cup song: Fly like an eagle, The Steve Miller Band
Folklaw's prediction: Will qualify for the second stage, just like 2006. Unfortunately, like 2006, that's where the dream will end.
France
Rabble, shambolic, disgrace. Those terms are being kind to the French given the shenanigans from 'Les Bleus' at the Cup in 2010. To recap: Striker Nicolas Anelka was sent home after swearing at the coach, Raymond Domenech. The rest of the team then refused to train and, to cap it all off, they didn't win a single match and got what they deserved and were dumped out of the Cup. Domenech and Anelka are long gone, but the same problems remain. They left one of their best players, Samir Nasri, at home because the new coach doesn't like his attitude. Why single him out coach Deschamps? You could say the same thing about much of this squad. This team gives nonchalance a bad name.
Key player: Raphael Varane. The Real Madrid defender kicked the ball at the Atletico Madrid bench last month when celebrating the last goal in Real's Champions League victory. Wonder where he picks up such behaviour from?
Law firm mascot: Norton Rose Fulbright
World Cup song: The song remains the same, Led Zeppelin
Folklaw's prediction: Will get through to the knockout stage, but will be quickly stopped once there. Will be missed by a grand total of three people.
Honduras
Folklaw gives a huge shout-out to Honduras for qualifying for the Cup for the second successive year. They are perennial high achievers in the CONCACAF confederation, but their status as a regional power will not translate onto the global stage.
Key player: Wilson Palacios. The midfielder's day job is with Stoke in the UK, so he is used to playing with the odds stacked against him
Law firm mascot: McCullough Robertson
World Cup song: Against all odds, Phil Collins
Folklaw's prediction: Not even the stirring words of Phil Collins will inspire the Hondurans to greater things. An early exit awaits.
Switzerland
One of the great mysteries of the modern world is how Switzerland is ranked sixth on the FIFA rankings. The head of FIFA, Sepp Blatter, is Swiss… The closest the Swiss have ever come to the Cup has been in its banks cashing cheques from victorious players from other countries. Once more, its bankers will be busier than its footballers.
Key player: Ricardo Rodriguez. This Swiss-man is a lucky lad, in that his parents are Spanish and Chilean. He was born to be a good footballer with stupendous hair. The kid, and he is only 21, can play
Law firm mascot: Corrs Chambers Westgarth
World Cup song: Mountain song, Jane's Addiction
Folklaw's prediction: Will lose to Equador and will not progress past the group stage.
Group F
Argentina
One of the Cup's glamour teams. The Argentinians are always a must-see at the tournament for both the quality of their play and the volatility within the team that is never far from the surface. Folklaw still remembers sitting gobsmacked in front of the box after we watched an all in brawl instigated by the Argentinians when knocked out by the Germans at the 2006 Cup. Quarter-finalists then and quarter-finalists at last year's Cup, but this time, they will go further.
Key player: Angel Di Maria. While the focus will be on Barcelona's Lionel Messi, this man is seriously good. A midfielder with a blinding burst of acceleration, he will be THE player to watch in the tournament.
Law firm mascot: Allen & Overy
World Cup song: There must be an angel (Playing with my heart), The Eurythmics
Folklaw's FINALISTS prediction: Runners up.
Bosnia and Herzegovenia
The sentimental favourites. This tiny country of around four million inhabitants is at the Cup for the first time. A large number of their squad were refugees after the Bosnian conflict of the 1990s and recent floods in the Balkans have killed over 70 people and displaced thousands more. Like Croatia in 1998, Folklaw has a feeling this team will delight and surprise.
Key player: Edin Dzeko. "Dzeko is a national idol. When Dzeko scores, every Bosnian refugee in the world has scored with him," said a Bosnian refugee in an article Folklaw read recently in The Guardian. No more needs to be said
Law firm mascot: Banki Haddock Fiora
World Cup song: What goes on, The Velvet Underground
Folklaw's prediction: Potential to make the quarter-finals.
Iran
The are some matches that are seared in the mind forever. When Iran came from 2-0 down to draw with the Socceroos and qualify for the 98 World Cup in place of Australia, it put all Australian football fans in a state of funk. We shouldn't have been surprised, really. Iran was good then and the team is still good now. Perennial World Cup qualifiers.
Key player: Karim Anarifard. He plays for Tractor Sazi. Folklaw can't think of a team anywhere, in any sport, with a better name
Law firm mascot: Minter Ellison
World Cup song: It ain't what you do, Fun Boy Three and Bananarama
Folklaw's prediction: Will score goals and surprise folks with their quality, but be eliminated in the first round.
Nigeria
There were high hopes Nigeria would be the first African team to lift the Cup after they nearly knocked Italy out in 1994. That hasn't happened and this Nigerian team is not as strong as previous ones.
Key player: Victor Moses. The Chelsea winger is an excitement machine, and much of Nigeria's attacks will come through him
Law firm mascot: Jackson McDonald
World Cup song:  Little room, The White Stripes
Folklaw's prediction: First round exit.
Group G
Germany
The most consistently high-achieving team in world football, the Germans are always there or thereabouts at every World Cup. This time, under the tutelage of Joachim Low, they have a team with flair, craft and smarts. Anything less than making the final would be considered a disappointment.
Key player: Mesut Ozil. The Arsenal player was booed by sections of Germany's fans at a recent friendly. Why? The man is talented and delivers when it matters and he is set for a big Cup.
Law firm mascot: Clifford Chance
World Cup song: Everything old is new again, Peter Allen
Folklaw's prediction: Shock quarter-final exit. Not based on form, more of a gut feel.
Ghana
The hard-luck story of the last World Cup was Ghana. In the quarter-finals against Uruguay the score was 1-1 when, in the last minute, Luis Suarez (who else?) deliberately handballed a goal bound shot. Ghana missed the resultant penalty and Uruguay won after a penalty shootout. This team is not as good as 2010 and with Germany and Portugal in their group, they can expect an early exit.
Key player: Kwadwo Asamoah. The cultured midfielder will need to be at his best to pierce for Ghana to make the knockout stage
Law firm mascot: Baker & McKenzie
World Cup song: Red right hand, Nick Cave & The Bad Seeds
Folklaw's prediction: Sadly, no repeat of 2010.
Portugal
Folklaw has very fond memories of watching Portugese matches at the last Cup at old-fashioned boozers in Sydney's Inner West with the local Portugese community. Great food, passion for the team, but disappointment when the Portugese exited at the hands of old rivals Spain. They have talent across the park, but have a history of underperforming on the big stage.
Key player: Joao Moutinho. All eyes will be on Ronaldo, but take your eyes off this guy at your peril. He has the temperament to match the skills
Law firm mascot: Seyfarth Shaw
World Cup song: History repeating, The Propellerheads with Shirley Bassey
Folklaw's prediction: Will get out of the group, but won't go past the quarter-finals.
USA
The USA is like that band that you recall had one or two OK songs, but can't remember the names of the songs, band members or when they came out. USA always qualifies for the Cup, but like a good party, I can't remember anything they have ever done when looking back.
Key player: Landon Donovan. Coach Jurgen Klinsmann omitted the 156-game veteran, who has the most caps and goals for the national team. Something's not right here, and that feeling will flow through to on-field performances
Law firm mascot: K&L Gates
World Cup song: You've lost that loving feeling, The Righteous Brothers
Folklaw's prediction: Do you need to ask? Going, going, gone.
Group H
Algeria
At the last Coupe du Monde, Folklaw interrupted our normal late night routine of watching Rage to watch Algeria play England. Wow! That 0-0 draw, the worst game of the tournament, is seared in our memory as time we can never get back. Algeria adopt a defensive approach as they don't have the talent of other teams. Understandable, yes, watchable, no.
Key player: Albert Camus. Not playing of course, as the French humanist philosopher and writer passed away many Cups ago. The Algerian-born great was a goalkeeper for the Algerian national team, and his influence on and off the pitch lives on. If you have the choice between watching the current Algerian team play and reading The Plague, go with the latter option. Folklaw's favourite literary sportsman
Law firm mascot: Jones Day
World Cup song: The kids are alright, The Who
Folklaw's prediction: Odds on to beat the USA, but little joy to be found elsewhere. Will be booking flights home for late June as we speak.
Belgium
Strap yourselves in folks! This team has got the look. Belgium is a happy team: it has world-class players in every position, a captain (Vincent Kompany) who is fresh from captaining Manchester City to the Premier League title, and a young, fresh-faced squad that plays the game the right way. Whatever you do, even if it means sacrificing sleep, work, relationships or personal hygiene, make the effort to watch them. You won't be disappointed.
Key player: Eden 'Dukes of' Hazard. This midfielder is a genius on the ball, but a normal kinda guy off it. With Italy's Pirlo, Hazard is the best passer in the tournament and Folklaw's pic to win the Golden Ball Award for the Cup's best player.
Law firm mascot: Hive Legal
World Cup song: More than a Feeling, Boston
Folklaw's WINNING prediction: Belgium to win the Cup! Their time is now and Folklaw is already looking at a tax deduction-inspired trip over to Brussels in July to drink some celebratory Chimay with the boys. They are seriously, seriously good. Godspeed.
Korea Republic
The high watermark for Korean football was when they made the World Cup semi-finals in 2002 when backed by partisan home crowds and coached by Guus Hiddink, who worked his magic on the Socceroos four years later. Korea will never hit those highs again, but there is no harm in trying, right?
Key player: Son Heung-min. The German-based striker is a threat with the ball at his feet or cannoning off his head
Law firm mascot: Harmers Workplace Lawyers
World Cup song: Those were the days, Mary Hopkin
Folklaw's prediction: Will beat Algeria and Russia, but not Belgium. Second round awaits, but they won't trouble anyone after that.
Russia
Politics and sport. It is the age-old question about whether the two should be mixed. Let's not kid ourselves, they are intertwined and the latter is often used by dirty players of the former. Vladimir Putin, a preening populist, has effectively used sport as a means to court international influence and keep the masses onside. The country is hosting the Cup in 2018. It will be interesting to see if any Russian 'host' cities are based in the Crimea or Ukraine…
Key player: Oleg Shatov. The Zenit St Petersburg midfielder is a talented young man. I look to him when I think about Russian football and what the future might hold.
Law firm mascot: DLA Piper
World Cup song: Sympathy for the Devil, The Rolling Stones
Folklaw's prediction: Dumped out in the first round. They won't be missed.