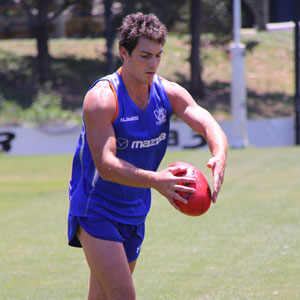 AFL player Ben McKinley writes about his decision to leave professional football to work as a lawyer.
AFL player Ben McKinley writes about his decision to leave professional football to work as a lawyer.
I started playing footy when I was eight years old. Running around with a football in the winter is one of my earliest and fondest memories and from that time I wanted to live the dream of most Australian boys: to play AFL football. Come summer I wanted to be a test cricketer for Australia, so I hadn't yet made up my mind.
I first became interested in the law as a 16 year-old enrolled in legal studies at high school. I was intrigued by the law and its application. If someone had told me at the time that being a lawyer does not have much to do with what we were taught in year 12 legal studies, my career may have turned out very differently.
My love for football as a kid grew into a professional career, and I was fortunate enough to spend seven years playing top-level football for the West Coast Eagles and North Melbourne Football Clubs. I studied part-time for nine years, completing the majority of my degree at the University of Western Australia while playing for West Coast.
These were busy years, studying and playing competitive sport at an elite level. I had begun my law degree prior to being drafted to West Coast and, knowing footy doesn't last forever, I was keen to continue my studies while I played. Studying also helped me manage the mental demands of football by giving me a chance to switch off from the constant pressure and scrutiny that comes with being a professional athlete in a prominent sport.
It certainly wasn't easy to fit everything in. One Saturday morning I went from completing a three-hour exam to running straight onto the football field – my warm up for the game was running from the car to the ground. My coaches were happy with my game and suggested I sit an exam every week!
I have always had a passion for sport, and I wanted to incorporate it somehow in my career – whatever that career might be. The similarities between professional sport and practising law cannot be overlooked. Both require dedication, a range of knowledge, understanding an experience, time-management skills and, most importantly, teamwork and cooperation to achieve an end goal. So when my days playing footy came to an end, I was very happy to move into the legal profession on a full-time basis. While it was a dramatic lifestyle change – I now spend eight to 10 hours a day in an office rather than running around a footy field – these underlying similarities have made it slightly easier for me.
I now work in national law firm Holding Redlich's sports law group, which is a great fit. The team is growing and we have the benefit of a great range of expertise and personalities. I'm enjoying the switch to flexing intellectual muscles and being able to combine my twin interests in the law and sports. I am hopeful I will be able to give better advice as a sports lawyer due to the knowledge gained from having been involved in professional sporting organisations and environments. An important job for a lawyer is to have the ability to empathise with a client, while remaining focused on the ultimate goal. I'm hoping that my insight into their world means I can provide better advice to clients.
The diversity of the subject matter that we encounter within the sporting context is another reason why this area of the law appeals to me. I have already had the opportunity to consider many areas of the law, including intellectual property, contract, tort, employment and commercial litigation. This role gives me the opportunity to gain knowledge in a number of areas of the law within an industry that remains my passion.
While I'm more likely to be found these days in my office working on a case, I still like to run around with a football, which is important for work-life balance – as it was when I was playing.
This year I am spending my Saturdays as the runner for the Werribee Tigers in the VFL to keep me fit and to stay involved in the footy environment.
Ben McKinley is a lawyer at Holding Redlich in Melbourne.