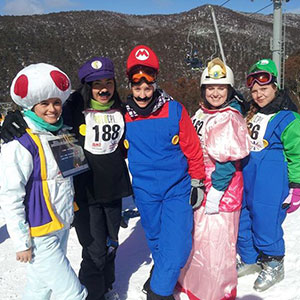 Lawyers, barristers and paralegals put away their wigs and suits last weekend and took a slide and dive down the mountainsides of Thredbo during LAWSKI's annual event.
Folklaw was pleased to hear that there were no major snow fights between rivalling firms, although competition was reportedly tough on the slopes.
Lawyers Weekly spoke with the fastest female skier for this year, Henry Davis York lawyer and LAWSKI committee member Melysha Turnbull.

Turnbull said the weekend was a light-hearted and fun event but that it also had a serious side. "There's healthy competition between the firms," she said.
The three-day event ran from 1-3 August this year and attracted a large number of firms. Lawyers from Queensland-headquartered firm McCullough Robertson attended for the first time.
Over the weekend LAWSKI raised $10,400 for its chosen charity, Sporting Chance Cancer Foundation, which funds cancer research for children.

The race is in its 24th year. It was sold out this year with over 200 races organised and almost 300 people attending the presentation dinner.
The stand-out this year was the award for the fastest firm. Herbert Smith Freehills' team comprising of Henry Shatwell, Samuel Brown, Natalie Berents and David Grainger took home gold for the first time, beating long-time champion Clayton Utz, which has won the award for the last eight years.

Josh Knuckey from Clayton Utz took the award for the fastest male skier again this year, with Jamie Neill from Piper Alderman coming in second and Sam Brown from Freehills coming in third.
In the past, Olympian skier and lawyer Zali Steggall has attended, which somewhat skewed the odds against the amateurs. This year she stayed home and, as a result, Turnbull won the prize for the fastest female skier for the first time.
"It was really exciting. HDY was really pleased – they were all cheering really loudly [at the awards night]," she said.

Turnbull's closest competitor and long-standing rival Georgia Quick from Ashurst was bumped up to second this year.

"In the absence of Zali Steggall and the real possibility of a pair of skis [to win] our faux rivalry suddenly became real! So much so that we did not let each other out of our sights in the lead up to the race," Turnbull said when asked about the competition between her and Quick.
"I have to say that I love the rivalry and that so far we are even in our medal tallies so the heat will be back on next year," she added.

Despite the competitive backdrop, the weekend away was essentially a feel good event. Awards were given generously across the board and even disastrous skiers got prizes, including the last to finish and the best crash.
The funniest accident this year, according to Turnbull, occurred when David Grainger from Freehills tripped on his skis and skidded backwards, flattening a fence.

The Wig and Robe award for the best costume was won by Amanda Gilkes (pictured) from Moray & Agnew this year. She went skiing dressed as Princess Peach along with a team of other lawyers dressed as Mario Kart characters.

Another notable costume was a three-person Thomas the Tank Engine outfit. Folklaw isn't sure how this lot managed to ski (let alone move) in this costume.

With over $30,000 of sponsorship from Skimax and various wine brands, the weekend was chock-full of fancy giveaways and awards.

The Lucky Door prize was the "one to get", according to Turnbull. Will Chapman-Smith from Gadens won the two tickets for a Japanese ski trip at Ki Niseko and Steven McDonald from Clayton Utz took home twin tickets for a trip to a ski resort in Whistler, Canada.

Here are some photos from the weekend:

{^widget|(name)RBI.MediaGalleryViewer_1|(FilePath)lawski%2f%2525|(NoofColumns)4|(ThumbnailSize)120|(widget_displayname)RBI+Media+Gallery+Viewer^}