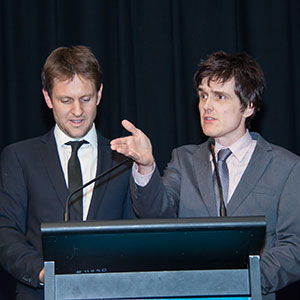 Awards nights can be humourless events, but it was clear from the start that this year's Law Awards would be anything but…
As the guests arrived at Sydney's Four Seasons Hotel last Friday (8 August) for the Lawyers Weekly Law Awards, proudly sponsored by Michael Page Legal, drinks flowed, as did conversations.
Folklaw mingled, a ritual we normally loathe, but not this evening.
Maybe it was the excitement that accompanies an Awards night, or the quickness with which the guests downed their drinks, but it seemed to Folklaw that everyone was in a playful mood.
Animated chatter and bursts of laughter filled the room as workmates gossiped and former colleagues caught up.
In fact, there were a number of reunions on the night, a by-product of the unprecedented number of lateral moves this past year.
This fact was not lost on the evening's MCs Andrew Hansen and Craig Reucassel (pictured) from The Chaser comedy group, who made light of the poaching shenanigans of law firms. They also joked about the spate of mergers that had produced firm names that "sounded like the names of royal children".
When Alexander Flecknoe-Brown accepted The Junior Barrister Award, proudly sponsored by Sheahan Lock Partners, the pair quipped that he had so many names he could be a law firm.
The name Squire Patton Boggs also fascinated the duo, who said the global firm sounded like a boutique beer.
Here's looking at you
The attire of attendees was another talking point on the night.
The MCs commented on the kilt worn by John Maclean, the managing director of Michael Page Legal.
Folklaw applauds John for donning the traditional dress of the Scottish Highlands despite it being a chilly winter evening in Sydney.
The handsomely-dressed team from Salvos Legal also got a mention for their tuxedos which, the MCs remarked, would be "back on the rack tomorrow".
Even the general manager and corporate counsel of Westpac's Institutional Banking business, Rob McGrory, used his acceptance speech to draw attention to the attractiveness of his team.
"We're living proof you don't have to be smart and ugly you can be smart and very pretty," he said in accepting the In-house Team Award on behalf of Westpac.
Folklaw admits we were delighted to see the profession scrub up so nicely.
See you again next year!