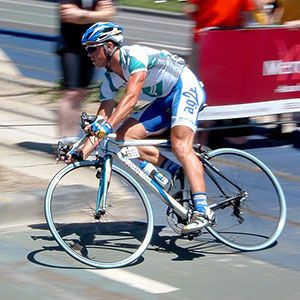 Herbert Smith Freehills partners along with cycling legend Simon Gerrans will host events together over summer.
Australia loves cycling, and it seems that includes law firms, lawyers and their clients.
Global law firm Herbert Smith Freehills has decided to team up with professional cycler and Tour de France road captain for the ORICA-GreenEDGE cycling team, Simon Gerrans (pictured), to host several events together in Australia over summer.
HSF Australian managing partner Jason Ricketts is excited about the collaboration, and told Lawyers Weekly it is a good match for the firm to be associated with an elite athlete like Gerrans.
"Cycling is a huge passion of many of our employees and partners, including myself and a number of our clients now," he said.
"We just thought having an association and collaboration with Simon would be terrific."
Ricketts said the firm plans to get a group of their clients together who might want to go for a cycle with Gerrans, and get them to cycle together.
Those not inclined to the pedalling persuasion can still have an opportunity for a tête-à-tête with Gerrans.
The firm plans to hold lunches and dinners around the cycling events so clients can chat to him.
"They can talk to him about how he's got where he's got to and learn a bit more about the sport that is growing and hear something about his legendary focus and just feats of endurance on the bike," Ricketts said.
While the events are principally a client thing, there might be a few spare spaces for the firm's lawyer cycling enthusiasts to participate, as many of them have a passion for it as well.
"Cycling is just that sport at the moment isn't it? Over the last four or five years it's risen in popularity in Australia and so it's certainly going to be an easy one to fill the spots," Ricketts said.
"We'll have to have a lottery, I think, for both clients and staff when it comes to taking the opportunity to have a ride with Simon."
Ricketts said the firm is still working out the final numbers and trying to coordinate everyone.
"There's just a logistical issue you have to work through when you put a whole lot of people on bikes and put them on roads so we're just working through those."
Gerrans, clients and lawyers can look forward to cycling in the warm months of spring and summer.
The Sydney dinner is on 27 October, while the cycle ride is on 28 October. The Melbourne dinner is on 30 October followed by a ride on 31 October.
"For Perth we're still working around the dates, but we're thinking the first week of December. We have to coordinate with Simon's diary," Ricketts said.
But the collaboration is unlikely to end there. Ricketts hopes it will be a long-term collaboration between the firm and Gerrans.
Gerrans himself is looking forward to the event, and meeting and cycling with the firm's clients, partners and staff.
"Since joining the ORICA-GreenEdge team three years ago I have experienced some of the greatest international success of my career and I'm looking forward to sharing some insights from that experience," he said.