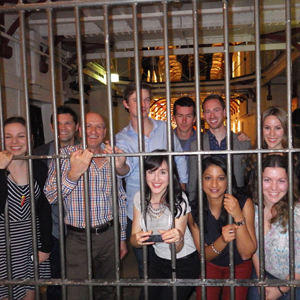 The cells that once housed Melbourne's most notorious gangsters and dangerous criminals will accommodate a more distinguished group next month.
The cells that once housed Melbourne's most notorious gangsters and dangerous criminals will accommodate a more distinguished group next month (10 October).
As part of the Lock up a Lawyer fundraising event, HM Prison Pentridge will be filled with prominent lawyers willing to spend a night behind bars for a good cause.
Lawyers from firms including K & L Gates, Aitken partners, Clayton Utz, Norton Rose Fulbright and from the ACCC will take up residence in the prison's eerie D Division Remand Centre.
"[The] cells… are quite dark and the floor is quite hard but I think that's all part of the challenge", K & L Gates lawyers and chair of the Youthlaw Monica Lillas (pictured right, crouching in centre wearing white, with the K&L Gates team), told Folklaw.
A taste of Melbourne's underworld
On the night lawyers will be treated to a ghost tour of the prison, during which they will undoubtedly hear tales of inmate brawls, great escapes and hangings.
They may hear the story of how the high Pentridge walls often failed to contain the bad sorts thrown inside and how one slippery inmate, Maxwell Carl Skinner, escaped no fewer than five times.
They may hear how the last cheeky convict to bail in 1987 left a message painted on his cell wall for one of the prison wardens that read, "Merry Christmas, Mr Williams".
One lucky lawyer will get to stay in Mark "Chopper" Read's cell, as the privilege will be auctioned off on the night.
Chopper boasted killing 19 people (despite never being convicted of a single murder) and was famous for asking a fellow inmate to cut his ears off and for getting in a knife fight that cost him several feet of intestines.
Folklaw wonders if paying to be haunted by Melbourne's most infamous underworld criminal is really a solid investment.
Imprisoned in style
Life behind bars won't be all hard floors and scary stories; Lillas emphasised that the evening would be filled with lively entertainment and said that tasty "gourmet prison slop" would be provided.
"It will be very nice food but you'll get the prison vibe by having to line up with your tray," she said.
"The actual space in which we have the event is really quite bright and freshly painted. The main hall still has the prison feel to it but it's actually a really nice space to hold the event."
During the event, the Lex Pistols will hit the stage featuring: Justice Lex Lasry of the Supreme Court of Victoria on drums; Michael Strong from the Australian Crime Commission on keyboard and guitar; director of public prosecutions John Champion SC on guitar; barrister Michael Cahill on bass; barrister Alister McNab on sax; and WorkSafe Senior Legal Manager Jocelyn Cole doing the lead vocals.
The Age and 3AW crime reporter John Silvester and deputy police commissioner Lucinda Nolan will also give talks on the night.
"It's a step up from last year", added Lillas.
All for a good cause
The inaugural event last year was attended by 150 lawyers and raised over $40,000 for charity.
This year the organisers expect 180 people to attend and are aiming to raise $50,000 for YouthLaw and for Melbourne City Mission program 'Mates for Inmates'.
YouthLaw is a community legal centre that provides legal services for vulnerable people under the age of 25.
It runs education programs, offers direct legal advice and engages in advocacy. The money raised at the Lock up a Lawyer event will go towards online legal aid services for young people in rural and regional areas.
'Mates for Inmates' is a rehabilitation program which brings dogs into prisons and teaches female prisoners the grooming and handling skills to look after them.
The certificate in dog handling that participants receive provides them with future employment prospects.
In the past there has been a 92 per cent non-reoffending rate for those that participate.    
For more information about the event click here.