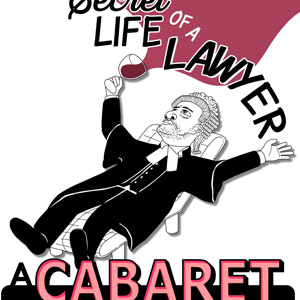 Long hours. Billable hours. Hardly see your families. A troop of creative lawyers are putting on a cabaret show that will make you laugh, cry and nod in empathy.
Theatrical company BottledSnail Productions, which also supports the Melbourne Lawyers Orchestra,  is combining all of these issues to stage a cabaret for two nights in Melbourne next week (17-18 September) Titled 'The Secret Life of a Lawyer (a cabaret)'. The production borrows from classic pop and musical theatre to depict the sometimes hilarious, sometimes tragic parts of being "in the law".
As the poster of the play indicates (pictured above), lawyers are known to perhaps have a glass of wine at the end of a stressful day. Poster designer, and Ashurst lawyer George McCubbin took that as the main idea for the play poster, showing a lawyer pouring his heart out on a psychologist's chair with a glass of wine in his hand.
A good cause
The production company will donate proceeds from the play to the Tristan Jepson Memorial Foundation, which is trying to increase awareness of anxiety and depression in the legal profession.
"There are stories about caffeine addiction, there's a beautiful song by someone who's singing about being married to a lawyer and how he, every day, thinks it's going to be his wife at the door but she never comes home," director of BottledSnail and lawyer at Maddocks Kathryn Sutherland told Folklaw.
The play also delves into the deeper issues like the importance of letting work go when you leave the workplace.
"When you come to see our show I think what we want to show our audience is that we work full-time, we've got very hectic lifestyles, yet we found time to dedicate to something completely different. We're showing that you can have a creative outlet outside of your work," said Sutherland.
Over 500,000 billable minutes in a year
One of the pertinent issues in the legal profession is billable hours. This play is devoting a whole song to billable minutes, basing it on 'Seasons of Love' from the musical 'Rent'.
As Sutherland points out, you can measure time in daylight, sunsets or cups of coffee, but you can also measure it in the number of billable minutes.
There are 525,000 billable minutes in a year, she pointed out.
"It's a fun spin on it but it's also just pointing out that it can be quite a stressful thing when you come into work and you think, you know, I'm here on the phone to you and how many billable minutes have I wasted when I could've been charging that out for the firm," said Sutherland.
There is going to be a ballad about someone who sings about how she has not billed anything to her client for 17 days and "maybe, this time the client will actually pay their bill".
"I think we're starting a bit of a conversation to say we all experience these things, and at the same time we can all have a laugh about it," said Sutherland.
Sutherland said the legal profession needs to start talking about issues like depression and anxiety more openly.
She believes firms must encourage employees to have a life outside of work, and to have an identity other than a lawyer.
"You might work extremely long hours but if you're in a supportive workplace then you need to be able to tell your partner at the end of the day that 'look I do have to leave at 5:30pm today'," said Sutherland.
The cast includes Bruce Hardy and Sarah Zeleznikow from the Supreme Court of Victoria, Kylie Weston-Scheuber from the Victorian Bar, Jessica Heyes from Minter Ellison, Justin Ingaliso and Edward Harcourt from Maddocks.
You can purchase tickets and find out more information here.
Belting out a tune (l-r): Kylie Weston-Scheuber, Kathryn Sutherland, Allie Sutherland, Jessica Heyes, Sarah Zeleznikow and Justine Ingaliso