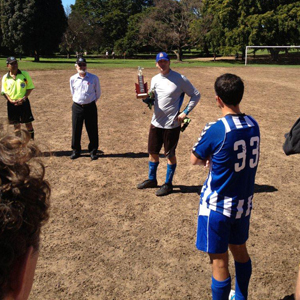 Anthony Lo Surdo SC tells Folklaw that football was the real winner as the NSW Bar covered themselves in glory.
Anthony Lo Surdo SC tells Folklaw that football was the real winner as the NSW Bar covered themselves in glory.
NSW Bar FC proved too strong for defending premiers Treasury United FC winning the coveted trophy in its maiden appearance in the Sydney Domain Soccer League Grand Final 1-0 on 9 September 2014.
The victorious squad consisted of Anais D'Arville, David Winterton, Michael Fordham SC, Hugh Morrison, Matt Vickers, Adrian Canceri, Colin Magee, Angus Lang, Jonathan Clark, Sebastian Hartford Davis, John Harris (c), Ben Phillips, Simon Philips, Lachlan Gyles SC and Stephen Free.
Both teams, who qualified for the grand final ahead of other sides including squads from Corrs Chambers Westgarth and the Reserve Bank of Australia, had plenty of chances in the first half.
The ever-capable Captain John Harris (pictured with the spoils of victory) expertly defeated an early foray by Treasury which could have put a very different complexion on the contest. The best chance for the Bar in the first half came from Sebastian Hartford Davis, who was cruelly thwarted by the cross-bar.
At the half-time break, Bar FC manager and supreme strategist David Stanton reminded his talented charges of the need to take the chances that were offered.
 Play resumed with the score at nil all. A clever and well-timed pass from Stephen Free to Adrian Canceri's left foot 3 yards inside the edge of the 18 yard box was punished with a blistering shot which was again denied by the cross-bar. However, moments later the ball was gifted to an unmarked Free standing a few yards shy of the penalty arc.
It was converted with such ferocity that the first notice Treasury had of the delivery was when it slammed into the back of the net!
 The hard-working backline of Michael Fordham SC, Matt Vickers, Lachlan Gyles SC, Colin Magee, Ben Phillips, Simon Philips and Anais D'Arville proved a mostly impenetrable force repelling repeated Treasury sorties. Angus Lang and Stephen Free combined seamlessly in the midfield to ensure expert ball distribution to Sebastian Hartford Davis, Jonathan Clark and David Winterton on the wings and Adrian Canceri and Hugh Morrison in the forwards. 
 NSW Bar FC now prepares to meet teams from the Victorian Bar and the Queensland Bar in the Suncorp Tri-State Football Challenge Cup to be played in Brisbane on 20 September 2014.
Anthony Lo Surdo SC is a barrister with Sydney's 12 Wentworth Selborne Chambers. Anthony is the patron of NSW Bar FC