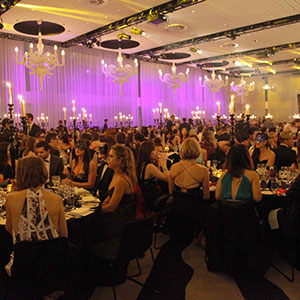 Once again, NSW Young Lawyers has hosted the Young Professionals Charity Ball, this time supporting the Indigenous Literacy Foundation (ILF).
Around 420 young professionals, including lawyers, doctors, accountants and engineers, gathered at the Ivy Ballroom earlier this month (13 September) for a worthy charitable cause as well as a chance to network and mingle.
"Lawyers generally are pretty insular as a group and it probably suits them to have other people outside of their circle," said NSW Young Lawyers President Thomas Spohr.
"Plus, the reality is the more the merrier at charity events, so why wouldn't you invite other professions along in the interests of the charity?" 
This year, the theme Young Lawyers opted for was Anonymity – or masquerade – where young professionals had to attend the event wearing a mask. There was even an award for the best mask.
A silent auction and a raffle draw took place during the event, with the main prize being a Sydney Swans Sherrin football with the signatures of all players in the 2014 playing group, including indigenous AFL players Adam Goodes and Lance Franklin.
Other prizes included a photography session, NSW hotel accommodation vouchers, a six-month gym membership and a selection of books.
Sydney band Grover lit up the dance floor with their six-piece live performance, which saw almost all of the attendees kick up their feet.
Spohr said the event raised more than $7000 through the raffle tickets. The funds will help ILF raise literacy levels and open doors for indigenous children living in remote and isolated regions.
The charity provides books and literacy resources to communities and spreads the word on indigenous literacy issues.
"Their work in remote indigenous communities bringing books to those communities in local languages is incredibly important, so it's been great in that way and we've been really honoured to be able to raise money for them," Spohr said.
The event was supported by Chartered Accountants Australia New Zealand, Engineers Australia Young Engineers Sydney Division, Young Agents – Real Estate Institute of NSW, Sydney Young Professionals, Young Energy Professionals – Australian Institute of Energy, and the Australian Medical Association New South Wales.
ILF will receive the cheque from the donations at the NSW Young Lawyers' Annual Assembly Gala Dinner on 8 November.