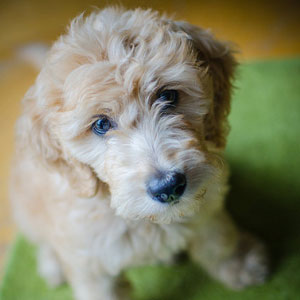 British barrister Joanna Golding has the judge's permission to bring her adorable, five-month-old puppy to court.
British barrister Joanna Golding has the judge's permission to bring her adorable, five-month-old puppy, Bertie, to court.
But don't be too jealous – her extremely cuddly Goldendoodle (golden retriever/poodle cross) has a serious job to do.
Golding has had diabetes since she was eight years old. The regular blood tests she has to take to monitor her blood sugar can be very disruptive to her work.
This is where Bertie comes in; he is in the business of saving Golding's life by sniffing out dangerously low or high blood sugar levels and alerting her before she collapses.
Dogs are up to 10,000 times more sensitive to smell than humans. Our canine companions have such excellent noses that they can even detect various types of cancer!
Golding's €6000 puppy was hand-picked for his personality and trained by Service Dogs Europe in Ireland to sense blood sugar levels.
Goldendoodles are bred specifically for their intelligence and faithfulness, which Bertie demonstrates in spades by staying by his owner's side at all times, even waiting patiently outside the shower.
Of course letting a dog bark or chew up the carpet in court would be verging on contempt, so Bertie needs to be on his very best behaviour at all times.
He silently taps his owner's foot three times to deliver alerts, using his left paw if her blood sugar is too high and his right paw if her blood sugar is too low.
Golding has a special pouch in her robes where she keeps treats to reward her dog for giving her alerts.
"He is very good in court. He is well behaved, doesn't bark and he is doing well for a young pup," Golding told the Hull Daily Mail.
This is the first time an emergency dog has worked full-time in British courts and it is not surprising that things don't always go to plan.
In a classic case of terrible timing, Bertie once let out an enormous doggy sigh just after a man accused of rape plead not guilty.
"Touch wood he has been very good in court so far. He had just one blip … Bertie let out this big sigh. The timing was horrific. But he is not a machine," said Golding.