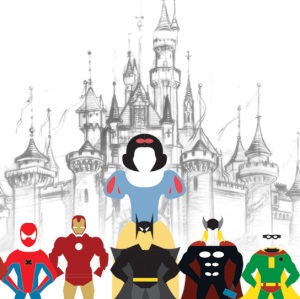 More than 60 Brisbane lawyers will perform an "epic portrayal of an improvised song and dance" to raise money for disadvantaged children in Thailand.
The trailer for Brisbane Family Law Centre's (BFLC's) 2014 Pantomime is indeed "epic". The climactic music and a dramatic voice-over left Folklaw feeling giddy with excitement.
While the trailer (see below) doesn't give too much away, except that fairy-tale characters, superheroes and Aussie icons Kath & Kim will make an appearance, the voice-over insists that "for the sake of marketing, [the show] cannot be missed".
Based on the turnout at past performances, Folklaw reckons that claim is true.
Around 400 people are expected to attend this year's panto, Snow White and the Seven Superheroes, which is being held at the Brisbane Convention Centre on 22 November.
The cast features solicitors from a range of family law firms in Brisbane, including Family Law Group Solicitors, DA Family Lawyers and Feeney Family Law. There are also a handful of family law barristers, mediators and consultants taking part.
Since the first panto in 2010, the production has been getting bigger and better – and, importantly, more profitable. In 2013, the event raised $16,000 for the Aunties & Uncles mentoring program, which assists vulnerable and disadvantaged children in Queensland.
This year, BFLC's target is $20,000. That is the amount that Mercy International needs to build a Trade School at Phetchabun in northern Thailand. The school will provide children with fundamental skills to gain employment within their community.
The head of BFLC, Clarissa Rayward, said that aside from contributing to a worthwhile cause, the panto also provides Brisbane's family lawyers with the opportunity to "let their hair down a little and enjoy a fun time with their colleagues".
For more information, visit BFLC's website at www.brisbanefamilylawcentre.com.au and follow the Pantomime link.
{^youtubevideo|(width)560|(height)340|(rel)True|(url)http://www.youtube.com/watch?v=ZhylpKWCq3E|(fs)True|(loop)False|(autoplay)False^}