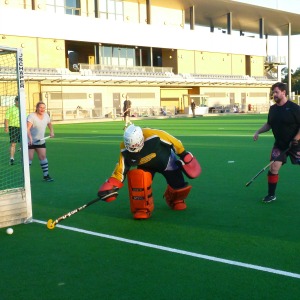 The Hockeyroos may be licking their wounds after a tight match against Argentina on Monday but their defeat is nothing compared to the loss felt by the Victorian barrister hockey tragics.


The annual Solicitors vs Barristers hockey game sponsored by the team at Burgess Paluch Legal Recruitment pits sole practitioners, partners in law firms, government lawyers and in-house lawyers against members of the independent Bar.
This year the Solicitors (pictured below) smashed the Barristers 3-1, taking back the title after being thrashed two years in a row.
Folklaw has no doubt that the Barristers voiced strong objections to the umpire and that an appeal of the decision is already underway.
"It's a very social game. It is played in good spirit and afterwards there are plenty of drinks," said director of Burgess Paluch Legal Recruitment Paul Burgess who played for the Solicitors.
There were a few torn muscles on both sides, with players pulling out and subs getting injured within the first five minutes of the match.
Folklaw suspects competition on the field was more fierce than Burgess lets on. After all, isn't hockey won and lost on players' shin-whacking abilities?
The Best Player title went to Julian Feiner from Allens, but all eyes were on former Australian hockey player Joshua Hawes who now works at Kemp Strang.
Burgess said he had it on good faith that the match was listed as a mandatory CPD event for all those playing at Metro 1 level or above, but that the Solicitors still struggled to build a team since many of their players were working late.
The barristers, on the other hand, had plenty of players don team blacks, which Burgess said was "in preparation for the mourning to follow".
The game was played on 30 October at the State Hockey Centre in Melbourne.