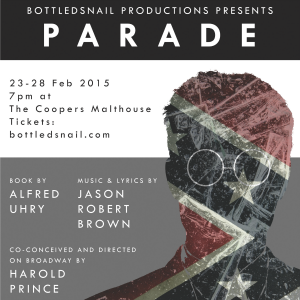 The thrilling murder-mystery musical playing at The Coopers Malthouse in Melbourne next month will be performed exclusively by a cast of lawyers and law students.
A team of more than 60 barristers, solicitors and law students have banded together to stage Parade, a Tony Award-winning show based on the real-life story of a man unfairly tried for murder.
The musical was adapted from a book by Alfred Uhry about a Brooklyn-born Jewish man, Leo Frank, who was accused of killing a young girl working in his pencil factory in Georgia in 1913.
The tale intertwines themes of endurance against all odds, religious intolerance and political injustice against the backdrop of the American civil war.
The musical is a BottledSnail Productions initiative and will run from 23 to 28 February.
Director of the show and creative director of BottledSnail Bruce Hardy said, "The secret is out. The legal industry is overflowing with talent and passion for the arts and BottledSnail is providing a home for that."

The aim of the project is to give legal professionals a creative outlet as an antidote to the mental distress that many experience at work. It will also raise funds for the Tristan Jepson Memorial Foundation, which aims to decrease work-related psychological ill-health in the legal community.
Barrister Hadi Mazloum said being a cast member has given him "new meaning to the concept of work-life balance".
Melbourne University law student and leading lady Allie Sutherland said, "being able to look forward to rehearsal each week makes the stress of intense study bearable".