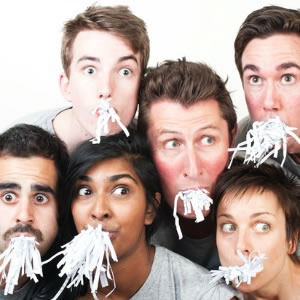 A band of theatrical law students and lawyers are putting on a show, Law Revue 2015 No Regerts, at the Melbourne International Comedy Festival.
After sold-out performances at the festival two years running, the company is back with a gag-filled set of original sketches including an underwater murder mystery and a superhero housemate from hell. The title of the show, No Regerts, is a fully [sic] and intentional typo.
All profits from BottledSnail Productions' show will go to the Tristan Jepson Memorial Fund, to help fight the rise of anxiety and depression in the legal profession.
"Many of our well-known comedians started out in university law comedy revues... BottledSnail is out to make a difference in the lives of lawyers bursting with a creative side," said No Regerts director and BottledSnail board member Olivia Bramwell.
The show will run from March 26 to April 4 at the Trades Hall in Melbourne.