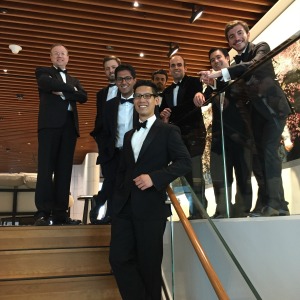 Herbert Smith Freehills' Sydney office experienced a touch of glamour last week as lawyers donned tuxedos for charity.
Eight HSF lawyers took part in the Tuxedo Tuesday initiative, raising $3,650 for not-for-profit Fitted for Work to help disadvantaged women find employment.
Overall, Tuxedo Tuesday raised $25,000, with the "Penguins of HSF" team raising the second highest amount after Bill Shorten's office.
HSF solicitor Michael Compton, one of the lawyers who suited up, said HSF valued social inclusion and diversity.
"Fitted for Work is a charity which promotes social inclusion by helping women who are experiencing disadvantage to find work and achieve financial independence, and so is a charity which is closely aligned to our firm values," he said.
According to Mr Compton, HSF has supported Fitted for Work for a number of years through clothing drives and fundraising initiatives.
Mr Compton suggested the team had achieved its goal of "doing good by looking good."
"The day is certainly not without the odd budding comedian on the bus to work enquiring whether this was usual Tuesday 'get-up' or a few quizzical looks from colleagues at lunch," he said.
"But it's all part of the fun of the day and helps raise awareness for the important work that Fitted for Work does."