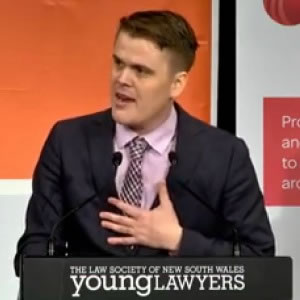 Going on a blind date with a barrister and shirtfronting a difficult bench were two of the subjects dealt with by the speakers at this year's Golden Gavel.
The annual NSW Golden Gavel Competition, which showcases the oratory and comedic talents of young lawyers, was held on 15 May in Sydney. 
Winner of the coveted speaking prize, Andrew Marriott from Legal Aid, spoke on the topic 'Married at first sight: the honeymoon of briefing new counsel'.

Mr Marriott's engaging portrayal of briefing counsel as a professional romance, further sensationalised by use of the theme music from Titanic, had the audience in hysterics.

When you first set eyes on your match through "barrister Tinder" (the internet), "your stomach tightens, your heart flutters, you can't get them out of your head or your inbox", Mr Marriott said.
"Counsel says, 'Meet me out the back of Silks'. You tell your counsel, 'I'll be the one carrying the blue file'.
"As things draw to a close, you are packing up, you're about to go back to the office and then the counsel says the magic words, 'I want you to come back to my chambers and show me your briefs'."

Email exchanges and coffee dates become increasingly "thrilling and sexy" as you draw closer to your public debut at trial.
"You learn to love his quirks," Mr Marriott said. "The way his moustache catches his crumbs, the way his belly prevents him from leaning over and grabbing the notepad off the desk, the way he sometimes looks like he definitely slept in chambers overnight, but you are just too shy to ask."

When the court date finally arrives, your barrister "whispers sweet nothings into your ear like, 'What did the judge say? I wasn't listening'."
Mr Marriott's witty and elaborate storytelling caught the attention of judge Michael Kirby, who said the speech was a "brilliant contribution and right up to the very best standards of Golden Gavel".
Andrew Marriott - Legal Aid

Winner: Andrew Marriott, Legal Aid - 'Married at first sight – the honeymoon of briefing new counsel'

Posted by NSW Golden Gavel Competition on Thursday, 14 May 2015
Another speaker, Gemma Lardner from Henry Davis York, deliberated on the difficult relationship solicitors have with the court and assessed whether shirt fronting judges, Tony Abbott-style, was an "appropriate way" to deal with a bench that won't budge.    
"Every judge I've ever had the pleasure of appearing before has been easy to talk to, patient, understanding," she reflected. 
"Superior court judges have only led me to weep in a foetal position under my desk, 10, 15 times tops."

But for lawyers who find judges difficult to deal with, shirt fronting is probably a flawed strategy, she said. 
Lawyers obviously don't have to address the "practical issues" that Mr Abbott would have needed to overcome to come good on his threat to Russian president Vladimir Putin.
"How on earth do you shirtfront a man who is, as a general rule, disinclined to wear shirts and predominately travels by horse or bear?" Ms Lardner pointed out.
But there is another way: "The beautiful thing about the law firm structure is that partners delegate their work, personal insecurities and problems down to us young lawyers and we in turn can always hospital pass the matter to an unnervingly enthusiastic grad who hasn't quite had their enthusiasm for the law completely stomped out of them," she said, brightly.
"Send them up to take the hit from the judge while you are still bruised from the last one."

Ms Lardner qualified this suggestion by saying that "there is a real likelihood that the grad you now need to manually paginate a ten volume brief to counsel will be too busy dealing with their PTSD flashbacks to be of any use to you."
Kristen Hammond from Holman Webb Lawyers, who was the runner-up in the competition, demonstrated unequivocally that there is no time too early in the morning to speak publicly on the subject of butt plugs, nipple clamps and whips.
Her topic '50 Shades of Grey: being dominant on the rough road to success' led her to discuss subtle themes of the film, such as how "it's ok to behave like an absolute stalker control freak nut bar when you are hot and rich".
The people's choice award, presented by partner at Sparke Helmore Mark Doepel, went to James Foley from Gadens, who spoke on the topic 'Speaking in Emoji: surviving a performance review'.
Mr Foley was introduced as a speaker with "an innate gift for spilling coffee on original documents" and described by his colleagues as "presumably a lawyer" who can normally be found face down on his keyboard.
Hitting a chord, he said performance reviews are "are a little bit like going on a date with your boss except there's no dinner, no drinks and only one of you is going to get screwed."
In his presentation speech, Mr Doepel said a key sign that a young lawyer is about to depart a firm is when they are honest in their performance review.
"I remember many years ago when I was a partner at a law firm that shall remain nameless – it was Minter Ellison – we had a lovely young girl in a performance review … and it started with her saying that she couldn't work with this partner for a moment more and she blew us all away when she said, in the most eloquent of language, she would rather spend the rest of her life with a diseased penis in her mouth than spend any more time at this so-called law firm."

Image: The winners and judges of the Golden Gavel Competition.