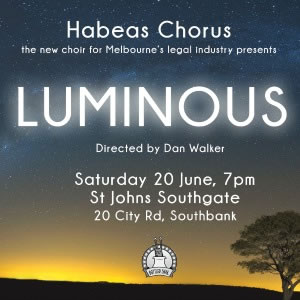 Members of Melbourne's legal community will sing their hearts out at the inaugural concert of the aptly-named 'Habeas Chorus' choir next month.
The choir is the latest in a line of projects by BottledSnail Productions, which aims to unleash the musical talents of legal practitioners, support staff and law students.
BottledSnail Productions partners with the Tristan Jepson Memorial Foundation to battle depression in the industry.
"[The choir] gives lawyers an opportunity to reconnect with singing and music and have a break from workplace stresses," said law graduate Emilia Maubach, who co-founded the choir with conductor and musical director Dan Walker.
Ms Maubach, who previously studied classical voice, found that by the end of her juris doctor she was no longer participating in music groups.
"I had given it all away and was focusing on all the legal stuff that I wanted to be involved in," she said. "I got the impression that was the experience that other people within the legal profession were having as well."
The choir has 27 active members, including court staff, solicitors and barristers.
"It has been really nice to see a whole range of people coming to rehearsals and you can sort of tell they've had a long day or it's a bit of hard work to get to rehearsals and then ... after a couple of hours of singing ... there is a huge buzz in the room," said Ms Maubach.
At the inaugural concert on June 20, the choir will perform Gabriel Fauré's Requiem and music from composers Ola Gjeilo, Morten Lauridsen, John Tavener, John Rutter and Ben van Tienen.
Habeas Chorus will be accompanied by members of the Melbourne Lawyers' Orchestra and pianist Ria Polo.