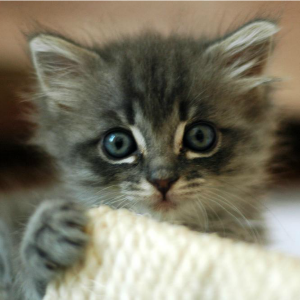 Coffee and cats, clearly two of the best things in life, are the key constituents of lawyer Veronica Morland's new start-up business.
Donning cute black cat ears and holding a bundle of furry adorableness, Sydney's self-proclaimed crazy cat lady has announced via the global cat enthusiast's network (the internet) that she is launching a cat cafe.
Ms Morland, 26, hasn't decided where to open yet, but has her eye on Surry Hills, the CBD or Newtown.
"I have worked as a commercial lawyer for a number of years and I do love it, it is exciting and challenging at times – but doing something on my own has always been a dream," she told The Daily Telegraph.
Ms Morland, who aims to open in September, has already raised $5,000 using crowdsourcing website Kickstarter for the Sydney Cat Cafe, but wants to reach a target of $15,000.
Ms Morland hosted Sydney's first pop-up cat cafe in Paddington's William St Gallery in May.
"It's a place for people who want to own a pet but can't, to come and spend time with these beautiful animals," she told goodfood.
"I think the business is really going to take off and there might be a transition to full-time crazy cat lady in the works."
If your cat cravings are getting the better of you, don't worry. Sydney has cat cafes in Erskineville, Chatswood and Roseville, and Catmosphere in Surry Hills is set to open soon.