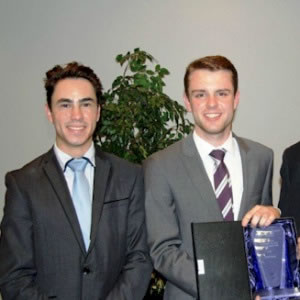 Lawyers are really good at disagreeing with each other, but how good are they at resolving disputes before clients go all-guns-blazing into a full-blown lawsuit?
The Administrative Appeals Tribunal (AAT) has decided to nurture mediation skills by opening a new competition to law students in Queensland.
The Negotiating Outcomes on Time Competition, or Noot, simulates Alternative Dispute Resolution processes used by the AAT, allowing students to learn negotiation techniques and the art of conciliation.
The competition was piloted in 2014 and has just finished its second year, with the finals being held on 30 May in Brisbane.
Ten teams from five universities took part in the Noot, with Bond University emerging as the strongest team.
Bond's Cameron McCormack (pictured left) and Tim Noonan (right) came first and Felicity Young and Kristen Centorame, also from Bond University, came third. Ms Young also won the best communicator award.
"Bond Law students have always been heavily involved in mooting, which involves advocating a case in a courtroom environment," said assistant professor Kylie Fletcher, who helped coach the team. "However in reality, many disputes are resolved without the need for a hearing.
"Nooting exposes students to the world of alternative dispute resolution and negotiation. It provides them with valuable knowledge and skills that will assist them in their future careers."