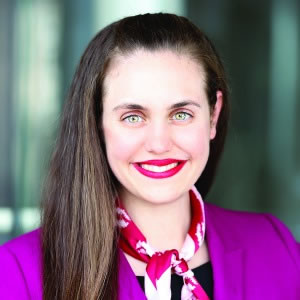 A banking and finance lawyer has leveraged her passion for rugby league into a popular blog – and the Canterbury Bulldogs threw her a birthday party in recognition.
Mary Konstantopoulos from Clayton Utz started Ladies Who League in mid-2013 to give women a place to talk about their love of the game.
"I started [the blog] because I did not think enough women were getting involved in conversations about rugby league," Ms Konstantopoulos said.
"I have loved rugby league for many years and have been with my team, the Parramatta Eels, since 1998 through some tremendous highs and award-winning lows. I am not the only woman I know with such a passion for sport and with a desire to contribute to the way the sport is administered and governed."
In the past two years the blog has exploded in popularity, with Ms Konstantopoulos appearing on ABC Grandstand with Debbie Spillane, presenting an award at the Parramatta Eels Presentation night, sitting on the NRL's Women in League Sub-Committee and enjoying a birthday bash hosted by the Bulldogs.
However, while hobnobbing with league's elite is a definite perk (and a duty Folklaw would be happy to assist with), Ms Konstantopoulos' priority is giving women a greater voice in the sport.
"We cannot expect our sports to continue to grow and be the best they can be if half their fans do not feel welcome to join in the conversation or participate," she said.
"Women are the fastest-growing influence group in the NRL and we must continue to do more to ensure their voices are heard, from the grassroots level to the boardroom."
In the lead-up to next week's State of Origin decider, Ms Konstantopoulos admits she tips with her heart and always barracks for the Blues.
"Regardless of what happens at Suncorp Stadium on July 8, though, New South Wales fans can take a lot of comfort from the fact that Queensland are an ageing team – think of players like Cameron Smith, Cooper Cronk, Corey Parker and Sam Thaiday – and will be going through a changing of the guard soon," she said.
"I am looking forward to the trophy staying in New South Wales, where it belongs!"