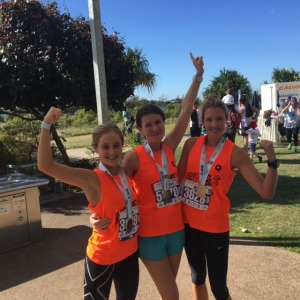 Three lawyers at Holding Redlich put themselves through a gruelling 42-kilometre run to raise money for cancer research.
Sarah Butler, Sarah Cunynghame and Laura Sierakowski (pictured) completed the Gold Coast Airport Marathon earlier this month, raising $6,800 for Cure Cancer Australia and the Cancer Council.
While the trio had no prior experience with marathon running, they had seen first-hand the devastating effect of cancer in their community.
"None of us had run a marathon before, but all of us have family and friends who have been or are currently affected by cancer," Ms Butler said. "It has also struck down friends and colleagues in their prime here at Holding Redlich."
The trio trained twice weekly for over five months with Can Too, a group which trains runners to promote fundraising for research organisations.
"None of us are huge runners, but we wanted to give it our best shot. And, we all made it!" Ms Butler said.
Ms Butler is optimistic that with the right funding, progress can be made with cancer treatment. She pointed to advances in the detection of breast cancer, which decreased the mortality rate by 30 per cent between 1994 and 2011.
"One of the things we all learnt while doing the program is that with resources and effort, cancer – all cancers – can be defeated," she said.
While 42.2 kilometres is further than Folklaw has run in the past decade, it salutes the sentiment – raising money for a noble cause may be the best argument yet for getting off the couch.