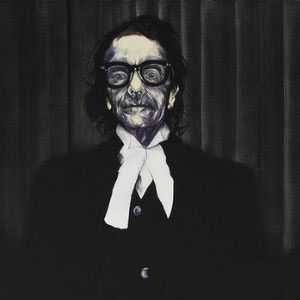 Criminal law barrister Charles Waterstreet served as the model for this year's Archibald Prize-winning portrait, painted by a former client.
Mr Waterstreet is well-known for appearing in high-profile criminal cases, as well as co-creating the television series Rake, loosely based on his own life.
The portrait by Newcastle artist Nigel Milsom depicts Mr Waterstreet in his barristers' robes, including his trademark thick-framed glasses and long hair.
A rising star in Australia's arts scene, Mr Milsom has battled drug addiction and served jail time for armed robbery.
Mr Waterstreet and Mr Milsom forged a bond when Mr Waterstreet acted as the artist's barrister.
The Archibald Prize is Australia's pre-eminent portrait competition, with a $100,000 prize for the winner.
The Archibalds are familiar territory for Mr Waterstreet, who was featured in a portrait by Adam Cullen in the 2011 competition.
The winning portrait, alongside other finalists, are on display at the Art Gallery of New South Wales.