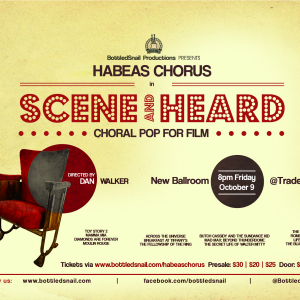 The Habeas Chorus choir is back at it again, with singing lawyers putting on a performance that will take their audience down memory lane.
Tunes from Toy Story 2, Breakfast at Tiffany's, The Return of the King and many more from everyone's favourite films will be featured at Habeas Chorus's second concert, Scene and Heard: Choral Pop for Film.
Habeas Chorus manager Emilia Maubach said: "This term we have focused on popular music from films, and we have the privilege of singing fantastic new arrangements by our director Dan Walker.
"Some of the songs we will be performing have been arranged by Dan especially for Habeas Chorus and our accompanying band, made up of members of the Melbourne Lawyer's Orchestra."
BottledSnail Productions launched the choir project in April this year to allow legal practitioners, support staff and law students to unleash their musical talents and take a break from their work desks to do something they enjoy.
Already the choir's numbers have grown from 28 members in the first term to 34 members in the second term – and they are always welcoming more.
The Scene and Heard: Choral Pop for Film concert is on 9 October at the Trades Hall in Melbourne, with tickets available on the BottledSnail website.
Like this story? Subscribe to our free newsletter and receive Lawyers Weekly every day straight to your inbox.