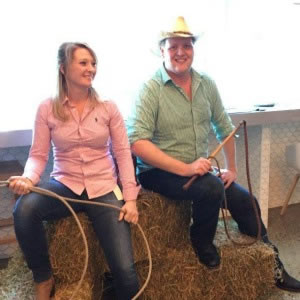 Being a partner is a stressful job, even without your junior lawyers trying to lasso you.
McCullough Robertson transformed its Brisbane office into an old-fashioned country fete last week to raise money for drought relief.
Lawyers who ponied up a donation were given the chance to test out their lasso skills – but targeted their partners rather than stray livestock.
Given the average lawyer's experience with cattle is limited to ordering rare steak, Folklaw salutes these brave volunteers.
Staff at the firm also cooked up a sausage sizzle, bobbed for apples and indulged in some CWA-style baked goods.
Proceeds of the event went to fund the 'Buy a Bale' initiative, which helps drought-stricken farmers buy additional feed to keep their animals alive.
According to Buy a Bale founder Charles Alder, who presented at the event, around 80 per cent of Queensland is in a state of drought.
With little natural feed, farmers are forced to buy bales of hay to supplement their animal's food.
However, in dry conditions, the price of hay also goes up, with each bale costing from $20 to $100.
McCullough Robertson has strong ties to the bush, according to a statement from the firm, having started in 1926 as an agribusiness specialist.
"With McCullough Robertson's strong and proud connections with the agriculture industry in Queensland and across Australia, their hope is to make a real difference to rural families," the firm stated.
By all reports, the partners emerged unscathed from the lasso competition, though Folklaw suggests they should be wary of assigning any unpleasant tasks to one of these budding stockmen in the near future.
Like this story? Subscribe to our free newsletter and receive Lawyers Weekly every day straight to your inbox.