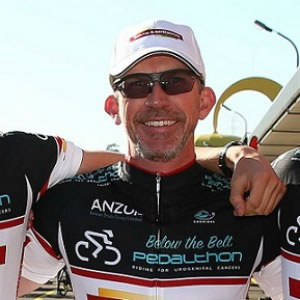 Lawyers in Lycra are popping up in offices around Australia, but most budding cyclists would be proud of completing 100 kilometres by bike – let alone a trip nine times as long.
Starting from 1 November, Baker & McKenzie partner David Jones is cycling from Sydney to Byron Bay over six days to raise money for the Steve Waugh Foundation.
The former Australian cricket captain Steve Waugh himself is also along for the 920-kilometre journey, giving the trip its moniker The Captain's Ride.
Mr Jones hopes to raise more than $15,000 for the foundation, which provides support to children and young adults living with a rare disease.
Among the 65 riders will also be international cyclist Simon Gerrans, former Sydney Swans ruckman Stephen Doyle, Nelson Mandela's former head of security Rory Steyn and John MacLean, a former paraplegic who took his first steps two years ago.
Mr Jones described the ride as "one of the most physically challenging events I have ever done" – and that's saying something given his past pursuits.
In the past seven years, Mr Jones has completed 28 ultra-marathons ranging from 50 to 175 kilometres in length.
He said personal tragedy inspired him to take part on this latest expedition for charity.
"The Steve Waugh Foundation does some absolutely amazing work – it is also very close to my heart for personal reasons as I had a baby sister die of a rare disease when I was only two," he said.
"I am immensely proud to have been asked to be a part of the inaugural Captain's Ride."